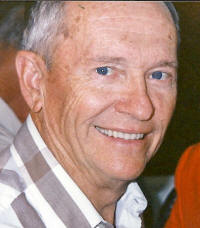 Eldon Behle

Send a link to a friend
[July 22, 2010] ELKHART -- Eldon Henry Behle, 85, of Elkhart, died Wednesday, July 21, 2010, at 4:45 p.m. at St. Clara's Manor in Lincoln.
His funeral will be at 11 a.m. Saturday at the Elkhart United Methodist Church, with the Rev. Dayle Badman officiating.
Visitation will be at Peasley Funeral Home in Lincoln on Friday from 5 to 8 p.m. and at the Elkhart church on Saturday from 10 a.m. until the service time.
Mr. Behle taught vocational agriculture at Campsville, Perry, Elkhart and Mount Pulaski high schools.
He was a U.S. Army veteran.
He was born July 31, 1924, in Ferguson, Mo. On Oct. 27, 1950, he married M. Joan Stevenson, who had grown up as his childhood neighbor in Ferguson.
He is survived by his wife; their three children, Charlotte (and Gary) Johnson, Donald (and Alison) Behle and Robert (and Suzanne) Behle; one sister, Eleda Hofer; nine grandchildren; and three great-grandchildren.
He was preceded in death by his parents and one brother, Ralph.
He graduated from Ferguson High School in 1942 and attended the University of Missouri until he was drafted into the Army. He served in Japan and South Korea from 1945 to 1946. Then he resumed his studies at Mizzou and graduated in 1950 with a bachelor's degree in agriculture education.
He sponsored FFA and judged 4-H projects until he retired from teaching in 1988. After retirement, he served on the Logan County Board (1990-1998); worked for the Illinois Crop Improvement Association; was a weighmaster at the Logan County Fair; worked as a bailiff at the Logan County Courthouse; served as chairman for the Logan County Chapter of the American Red Cross; served on the Elkhart Library Board, belonged to the Retired Teachers Association; was a member of the Logan County Paramedic Association board; and was an active member of the Elkhart United Methodist Church.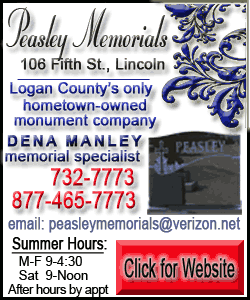 He enjoyed raising farm animals, hunting, fishing, gardening and even kept honeybees for a short time.
Memorials may be made to the Elkhart Methodist Church or the Alzheimer's Association.
Click here to send a note of condolence to the Behle family.