Send a link to a friend
[July 29, 2010] LINCOLN -- Betty J. Stoll, 87, of Lincoln, died Tuesday, July 27, 2010, at 11:51 p.m. at Abraham Lincoln Memorial Hospital.
There will be no visitation.
Her graveside service will be at noon Monday, Aug. 2, at New Union Cemetery, with Margaret Peifer officiating.
Mrs. Stoll was a bookkeeper for 40 years. She was also a beautician in Lincoln.

She was born April 22, 1923, in San Jose. Her parents were Charles and Rebecca Davison Davis. She married Lyle Stoll in 1956, and he preceded her in death in 1986.

She is survived by one granddaughter, Sarah Stoll of Lincoln; and nieces and nephews Becky Welch of Mount Pulaski, Thomas Gupton of Le Sueur, Minn., Carol Pate of Dallas, Texas, Marcia Davis of Springfield and Glen Davis of Springfield.

She was also preceded in death by her daughter, Jill Stoll.

She was a member of Middletown Methodist Church.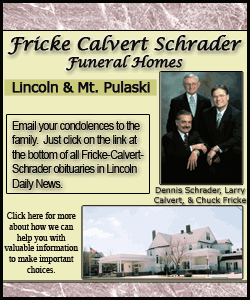 Memorials may be made to the family.
Click here to send a note of condolence to the Stoll family.