Margaret Renfrow
Send a link to a friend
[June 04, 2010] ATLANTA -- Margaret Renfrow, 81, of Atlanta, died Thursday, June 3, 2010, at 11:31 a.m. at the St. Joseph Hospital emergency room in Bloomington.
Visitation will be 5-8 p.m. Sunday at Quiram-Peasley Funeral Home in Atlanta.

Her funeral will be at 11 a.m. Monday at the Atlanta Christian Church, with Maurice Stribling officiating.

Burial will be at 10 a.m. June 12 at Zion Cemetery in Lincoln.

Mrs. Renfrow retired from Lehn & Fink after 28 years with the company.

She was born Dec. 5, 1928, in Hartsburg. Her parents were Paul Sr. and Annetta Saathoff Van Hoorn. She married Everett Leon Renfrow on July 13, 1946, in Hartsburg.

She is survived by her husband of nearly 64 years; two daughters, Connie (and Tom) Wertheim of Atlanta and Linda (and Kim) Shepherd of Normal; her siblings, George Van Hoorn of McLean, Doris (and Stanley) Evans of LeRoy, Marvin (and Robin) Van Hoorn of Beason and Paul Jr. (and Linda) Van Hoorn of Atlanta; eight grandchildren, Amy Wertheim, Greg Wertheim, Julie (and Erin) Mulliken, Jeff Doss, Joel Doss, Jeanene Doss, Chris Shepherd and Lindsey Shepherd; seven great-grandchildren, Nicholas Flach, Annika Wertheim, Skyler Doss, Anthony Cheek, Faith Cheek, Andrew Cheek and Dustin Cheek; and many nieces and nephews.

She was preceded in death by one daughter, Beverly Jean Cruz.

Margaret was a member of the Atlanta American Legion Auxiliary, Veterans of Foreign Wars Auxiliary and was an election judge.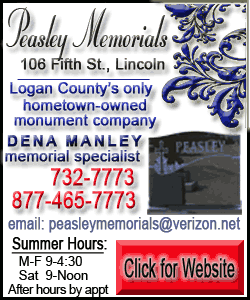 Memorials may be made to St. Jude's Midwest Affiliate, Atlanta Rescue Squad, McLean Rescue Squad or Atlanta Christian Church.
Click here to send a note of condolence to the Renfrow family.