---

Cub Scout Pack 111 would like to thank the 35 businesses and organizations who have given unselfishly to our pack over the last year by contributing meeting space, food, supplies, and donations for ScoutSweep, Cub Scout Day Camp, tours, and other events.
We want to recognize the following:
Becks
Bonanza
California Bar & Grill
Central School
Culvers
Dominoes
Eaton Corp.
First United Methodist Church
Graue, Inc. - Chris Graue
KC Ultra Graphics
Knights of Columbus
Kroger
Lincoln Christian University
Lincoln City Council
Lincoln Daily News
Lincoln Fire Department
Lincoln IGA
Lincoln Police Department
Lincoln Rural Fire Department
Little Ceasars
Logan County EMA
Logan County Jail
Longhorn Steakhouse
McDonald's
Mel-O-Cream
National Weather Service in Lincoln
Pizza Hut
Puritan Springs Water
Qik-N-EZ
Sign Design
Stacy's Pharmacy
State Farm - Chris Coyne
Subway
Walgreens
Wal-mart

We would also like to thank the citizens of Lincoln for their contributions by purchasing popcorn and candy bars for fundraisers.
Jason Schafer
Assistant Cubmaster
Cub Scout Pack 111
Send a link to a friend
---
---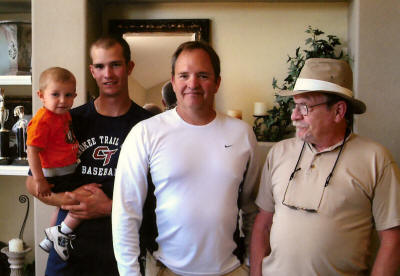 Four Generations of Perry's
(Click on image for larger version)
On a recent trip to Colorado, Tom Perry (named right to left) of rural Lincoln spent time with his son Scott Perry, grandson Brad Perry, and great-grandson Brayden Perry. Grandson Eric Parry was absent. Debby Perry took the picture.
Send a link to a friend
---
ALUMNI BANQUET
TO BE HELD JULY 10th
The Middletown Alumni Association has set the 2010 Banquet date for July 10th to be held at the American Legion located at 1740 Fifth Street, Lincoln, IL.

Honored classes this year are 1940, 1941, 1950, 1951, 1960 and 1961.

Reservations may be made by contacting Tom Sparks at (217) 732-8496, or write to 165 Lincolnwood Drive, Lincoln, IL 62656.

Tickets are $20.00 per person. Reservations and payment must be received by June 22nd.

Anyone who attended Middletown High School or the combined Middletown-New Holland High School is invited with a guest, regardless of whether they are a graduate. Registration begins at 5:30 p.m. with dinner at 6:00 p.m.

A memorial service will be held for classmates, who passed away after July, 2008. If you know of someone who should be included, please contact Elsie Tibbs at (217) 415-8711.

We are seeking current addresses for the following persons: Gene Elliott, Bonita Rademaker, Ruth Stewart, Mary Ellegood, and Doris McMorris. If you can provide any information, please contact Tom Sparks at (217) 732-8496.
Send a link to a friend
---
---