CLASSIFIED ADS
---
PUBLISHER'S NOTICE
Federal and state laws prohibit employment advertisements that express a discriminatory preference on the basis of race, age, sex, color, national origin, religion, handicap, or marital status.
Lincoln Daily News will not knowingly accept advertising for employment which is in violation of these laws. Our readers are informed that employment offerings advertised are available on an equal opportunity basis.
---
Do you love children and think you are a positive role model? Do you have patience, time, and space in your home? Catholic Charities of the Diocese of Peoria located in Lincoln is accepting applications for foster families to care for children, some with exceptional needs. Many of these children have developmental delays and/or behavior disorders. They would be provided counseling and/or other services, as needed. We provide training, licensing, and continuing support services. We also provide financial reimbursement to help care for the child(ren). If you can provide nurturing care, involvement, supervision, and a stable home environment, please call the licensing/resource worker, at 217-732-3771

Send a link to a friend
---

PART TIME TELLER
POSITION AVAILABLE
Logan County Bank is seeking an individual who will be responsible for handling customer transactions by following bank guidelines and procedures, telephone inquiries, issuance of cashierís checks and money orders, as well as meeting cross-sell goals.
Qualifications include: high school diploma or equivalent; minimum of one year experience handling money in a customer service environment; high level of accuracy; strong verbal communication skills, in person and on the phone; working knowledge of PC and Microsoft applications; and the ability to operate a currency counter and adding machine.
Part-time hours are flexible but do require Saturdays. Ability to travel between Lincoln and Buffalo branches is required.
Salary is competitive and based on qualifications.
All interested candidates may apply online at:
http://www.logancountybank.com
or send a resume with salary requirements to:
Logan County Bank
303 Pulaski Street
Lincoln, IL 62656
EOE M/F/V/D

Send a link to a friend
---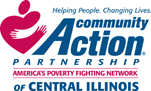 Position Available
in Head Start Program
Substitute for Head Start classrooms in Logan, Dewitt, and Piatt Counties based at corporate office in Lincoln. 32 hours per week for school year beginning in August, 2010.
Must be DCFS Site Director qualified (18 college credits in early childhood education or AA). Be able to implement educational activities to insure compliance with Head Start Performance Standards and DCFS Licensing Standards in various classrooms.
Valid Driverís License and proof of vehicle insurance required. Daily travel required. Benefits include holidays, retirement, dental, vision and life.
Applications available at www.capcil.org.
Mail completed applications or resume to:
Ellen Burbage, HR Manager
1800 Fifth St
Lincoln, IL 62656
All applications must be received by July 2, 2010. AA/Equal Opportunity Employer. Minorities encouraged to apply.

Send a link to a friend
---

Programmer Wanted
Programmer for .NET, Java, Visual Basic, SQL for web-based systems. Consulting basis.
Please send letter of interest and resume to:
Pam Sheley
Academic Development Institute

Send a link to a friend
---

Employment Opportunities
are waiting for you
at St. Clara's Manor
We currently have the following openings:
Director of Nursing
Assistant Director of Nursing
CNA's
Please apply in person at
200 5th Street, Lincoln
between the hours of 8 a.m. and 4 p.m.

Send a link to a friend
---
Part-Time Yearly Janitor Needed
Lincoln Elks Lodge #914
Average 30 hours weekly. Responsible for the general cleanliness and sanitation of the facility and grounds. Also assists with set-up, maintenance and tear down of special events, meetings and programs. Duties include basic cleaning as well as heavy detail cleaning. Additional Duties include emptying trash, dusting & vacuuming, cleaning bathrooms, and other duties as required.
Apply in person on Tuesday-Saturday from 10-12
or by mail to:

Lincoln Elks Lodge #914
Attn: Janitor
1020 1525th Street
Lincoln IL 62656
NO PHONE CALLS PLEASE

Send a link to a friend
---
Driver Trainees Needed Now at Werner Enterprises! Earn up to $700 per Week after training. Great benefits! No Experience needed. Local CDL Training Available with TDI. 1-800-272-7364.

Send a link to a friend
---
for the 2010-11 school year
Carroll Catholic School has the following 4 positions available for the
2010-2011 School Year:

Athletic Director
7th Grade Boys Basketball Coach
8th Grade Boys Basketball Coach
Girls Track Coach
Please contact Principal John Link at 217-732-7518 for more information.

Send a link to a friend
---
---
---