Much of what he did then revolved around services. He dealt with some local computer sales businesses that didn't have the ability to actually work on the computer processing units, plus he did service work for businesses that were using computers in their offices.

The Youngquists moved from a one-bedroom apartment in married student housing to a three-bedroom. Later they purchased a home and moved off campus.

With each move, CCA took up more and more space as the business continued to grow.

Eventually, Youngquist took CCA to a storefront location on Chicago Street, and later still the business moved to its current location at 601 Keokuk.

Over the years, the business has evolved somewhat. In the early days of the storefront, CCA offered retail computers that were what Youngquist referred to as "white box."

The white box computer was a no-name-brand computer that was built from scratch by CCA.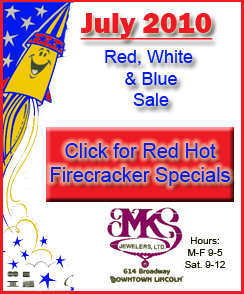 Youngquist purchased individual components and constructed the processing units in-house. The advantage to the white box computers was that they were durable, reliable and less expensive than name-brand computers. They were also easier to get, as there were very few local businesses that sold computers then.
However, when the major name brands came into a new generation of computers, the face of the retail market changed.
Name-brand computers to a certain degree became a disposable product. Inexpensively made and with shorter life spans, they were more affordable and soon began gracing the shelves of all types of stores.
At that point, Youngquist decided to phase out the retail portion of his business and concentrate more on service. During this phaseout period, the business still sold white box computers, but on a smaller scale, and they let the big-box stores run their course.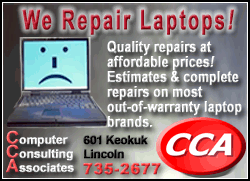 Today, Youngquist believes that the face of the consumer is changing when it comes to computers. He believes that with consumers tired of not being able to get service, not being able to upgrade their computers and having to replace rather than repair, people are ready to go back to a computer that is more durable, with a longer life, even if it initially means a few more dollars invested.
To that end CCA is going to once again put a push on their retail lines. Along with new, made-in-house white box computers, the business will also offer refurbished products in excellent working order with the latest technology and software for a fraction of the cost of new.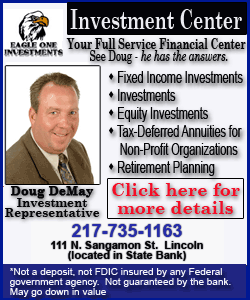 Another product that will soon be available through CCA is a rugged-ized laptop manufactured by Spartan. These laptops are made with metal bodies, have been drop-tested and can withstand an impact onto a concrete floor from 26 inches. These laptops are also spill-proof so liquids on keyboards will not destroy the unit.
In the Spartan line there is also an option to purchase a laptop with a screen that is visible in sunlight.
The computers will be heavier, perhaps a little more burdensome to carry, but will outlast the popular lightweight plastic bodies by years.
"What we want to do is give the public the offering of a computer that will last for years, perform well and be affordable," Youngquist said.
CCA also offers recycling of old CPUs. Youngquist said there is a small fee for taking the unit, but it is not a profit for the store. The fees charged cover the cost of having the units hauled away by a recycling service.
And for those who hesitate to turn over their old CPU for security reasons, CCA also offers what Youngquist referred to as a "CIA Pentagon-strength scrubber" that will erase every molecule of your personal information from the hard drive."
Whether or not Youngquist will call himself successful, the fact remains that CCA has been around 25 years and CCAonline for 14. With that kind of track record, Youngquist must be doing something right.
One of the things he's done right is that he's put together a team of employees he can count on.
On the CCA side there are nine employees in a mix of full- and part-time positions. Youngquist said that they all play an important part in the business, and perhaps the most important thing they do is work in his stead.
As the owner, Youngquist said that he needs to be able to do everything in all the businesses, but he can't do them all at once, so he has to have people who are capable of doing the work and representing him as they do it.
He feels that he has that in his group of nine and that they daily contribute to the overall success of the two businesses.
[By NILA SMITH]
(Part 1: Computer Consulting Associates celebrates 25 years)