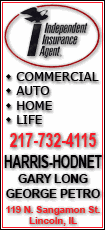 Whatever the reason, you just don't want to be that team. Well, when Lincoln's Jordan Nelson connected on a 3 from near the front volleyball line as the first-quarter buzzer sounded, it gave the Railers an 18-3 lead and the rout was on as Lincoln avoided being that team, winning in convincing fashion 70-46 over the host Braves.
The win advances Lincoln (27-3) to Friday night's regional championship game against either Decatur MacArthur or Eisenhower.

Most folks, at least the ones being honest, knew this game should have been easy for Lincoln. And, for the most part, it was.
Lincoln scored the first seven points of the game, while Mount Zion (2-25) turned the ball over on their first four possessions. It wasn't until almost five minutes had gone by that the hosts scored their first point from the free-throw line.
At times, the Braves must have thought Lincoln had found a way to get seven players on the court. Early on, each pass was either tipped or stolen.
When they did get the ball into the offensive end, Mount Zion seemed to move in slow motion. After another Mount Zion basket, Lincoln put the game out of reach. The Railers ran off 15 in a row to take a 22-3 lead early in the second quarter.

The most important stat of the first half may have been that nine players saw action in the first 16 minutes. One of the goals going into the contest was to get as much rest as possible for the players who see most of the playing time so, if next week happens for the Railers, they will be as fresh as possible in sectional action in Champaign.

Up by 17, the Railers ran off another seven in a row to stretch the lead to 29-5. It was Lincoln's largest lead of the first half, but they would top that in the second half.

You wouldn't think there would be much to pick at after a 24-point win, but coach Neil Alexander commented that one of the areas of concern that was addressed at halftime was free-throw shooting.
Lincoln made 5 of 8 in the first half, a mark that Alexander felt exhibited a lack of focus and attention and is something that needs to be fixed if the Railers hope to advance deep into tournament play. To that note, starting with the Moline game, over the past three games, Lincoln is shooting only 62 percent (31 of 50) from the free-throw line. This from a team that has been near 80 percent in the later stages of the season.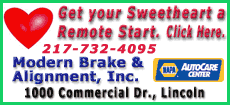 The second half was more Lincoln, Lincoln, Lincoln. Mount Zion did score the first basket of the half. However, another Lincoln run of 23-5 gave the Railers their largest lead of the night at 57-21. By this time, the starters were on bench, getting a well-deserved rest. At the end of the third, the outcome was well in hand as Lincoln led 61-28.

The fourth quarter did give a little bit of consolation to the Braves. Being able to outscore the No. 1 seed 18-9 made the final score a little more respectable. Sure, it could have been a 40-point win, but coach Alexander realizes that his starters needed rest and there is no reason to embarrass the other team. At this point of the season, the goal is simple and finite: Win to play another day.

And play another day Lincoln will. Friday night's regional title game could be a rematch with MacArthur from this year's Collinsville tournament, a game Lincoln won 67-54.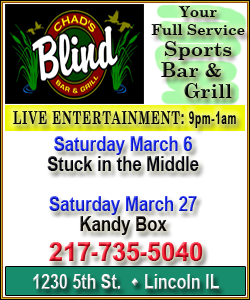 Lincoln got all but two players into the contest, while a season-high 10 players scored in the game. Jordan Nelson led with 20 points, followed by Nathaniel Smith's 13. Ben Brackney added 11, while senior Cameron Turner, despite being under the weather for the past few days, had arguably his best game of the season, hitting double digits for the first time in his career with 10. Brant Coyne added five third-quarter points, with Brandon Miller scoring three. Austin Kirby, Reuben Bowlby, Christian Van Hook and Andy Krusz all scored two.

All in all, a good start to the postseason for the Railers. Next game is Friday night at Mount Zion against the survivor of the battle of Decatur. As always, as the Railers make their way to Peoria you can follow along right here at www.lincolndailynews.com.

Make sure you click on to the associated story regarding the IHSA update for all the scores and matchups that could play a role in Lincoln's tournament road.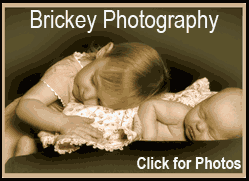 ___
LINCOLN (70)

Nelson 7 2-2 20, Smith 4 4-4 13, Brackney 4 3-4 11, Turner 4 1-3 10, Coyne 1 3-3 5, Miller 1 0-0 3, Kirby 1 0-2 2, Van Hook 1 0-2 2, Krusz 1 0-0 2, Bowlby 1 0-0 2, Olson 0 0-0 0, Hays 0 0-0 0, Green 0 0-0 0. Team 25 13-20 70. 3-point field goals 7 (Nelson 4, Smith, Turner, Miller).

Mount Zion (46)

Fortner 15, Stewart 8, Richards 7, Babich 6, Sharp 4, Hartman 2, Oliver 2, Myers 1, Huggins 1. Team 15 13-20 46. 3-point field goals 3 (Babich 2, Richards).

Lincoln 18-16-27-9
Mount Zion 3-12-13-18

Other notes:

This is the sixth opponent in a row the Railer defense has held to a score in the 40s.

Jordan Nelson has tied Brian Cook and Seymour Reed for 10th in career games played with 94.

Nelson is 19 points behind Brian Cook for ninth on the all-time list and could move into seventh with 28 points.

Nelson has become only the third Railer to hit over 100 3-pointers in a season (101). He is just 12 behind current assistant John Harmsen's all-time season mark of 113 set five seasons ago.

Ben Brackney is three points away from 1,200 in his career.

Lincoln remains undefeated when ahead at the half (25-0) and is 20-1 when hitting seven or more 3s in a game.