Robert Horn
Send a link to a friend
[March 05, 2010] MOUNT PULASKI -- Robert J. Horn, 89, of Mount Pulaski, died Friday, March 5, 2010, at 3:30 a.m. at Vonderlieth Living Center in Mount Pulaski.
His funeral will be at 11 a.m. Monday at Zion Lutheran Church in Mount Pulaski, with the Rev. Glenn Strohschein officiating. Visitation will be from 10 to 11 a.m. at the church.

Burial will be in Mount Pulaski Cemetery, where military rites will be conducted.

Arrangements are by Fricke-Calvert-Schrader Funeral Home in Mount Pulaski.

Mr. Horn retired from the U.S. Postal Service after 33 years. He was a postal carrier for 20 years and postmaster for 13 years.

He served in the U.S. Army Air Corps during World War II. He was a prisoner of war in Germany and was later honorably discharged with the rank of captain.

He was born Sept. 30, 1920, in rural Mount Pulaski. His parents were Reuben J. and Lydia Grathwohl Horn.

He is survived by one brother, Norman "Jack" (and Betty) Horn of Mount Pulaski, and many nieces and nephews: Carol (Paul) Turner of River Forest, Maryan (Alan) Murphy of Chestnut, Larry Horn of Mount Pulaski, Michael (and Rosie) Horn of San Diego, Calif., Linda Potts of San Diego, Calif., and Craig (and Toni) Horn of San Francisco, Calif.

He was preceded in death by one brother, John.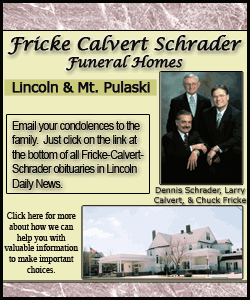 He was a member of Zion Lutheran Church of Mount Pulaski.
Memorials may be made to Zion Lutheran School of Mount Pulaski.
Click here to send a note of condolence to the Horn family.