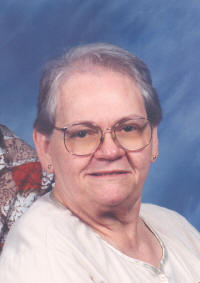 Norma Boehm

Send a link to a friend
[March 15, 2010] LINCOLN -- Norma Louise Boehm, 79, of Friendship Manor in Lincoln, died Sunday, March 14, 2010, at 2:07 p.m. at St. John's Hospice in Springfield, surrounded by her family.
Visitation will be 5-8 p.m. Wednesday at Fricke-Calvert-Schrader Funeral Home in Lincoln.
Her Mass of Christian burial will be at 10 a.m. Thursday at Holy Family Church, with the Rev. John Pham officiating.
Burial will be in St. Mary's Cemetery.
Mrs. Boehm was a retired nurse anesthetist.
She was born June 27, 1930, at Lincoln. Her parents were Velma Ray and Gladys Fern
Cook Webb. She married Henry August Boehm on Aug. 25, 1951, at Lincoln. He preceded her in death on July 14, 1999.
She is survived by her children, Martha L. (and Claude) Miller of Bloomington, Teresa A. (and Brian) Tompoles of Muscatine, Iowa, David A. (and Grace) Boehm of Urbana and Laura J. (and David) Schonauer of Lincoln; her grandchildren, Nicholas (and Cathy) Miller of Bloomington, Steven (and Amy) Miller of LeRoy, Erik Miller (and fiancee Chelsey Larson) of Clinton, Iowa, Emily Miller of Bloomington, Hannah Tompoles of Muscatine, Iowa, David (and Jamie) Boehm of Mounds View, Minn., Billie Nicole Boehm of Sheridan, Wyo., Raquel Dunmore of Urbana, Adam Schonauer (and fiancee Laura Perkinson) of Paxton, Margaret Schonauer of St. Louis, Mo., and Kathleen Schonauer of Lincoln; and two great-granddaughters, Corinne and Norah Miller, both of Bloomington.
She was also preceded in death by her parents; an infant daughter, Carolyn Sue; an infant brother, Richard; and a sister, Virginia Anderson.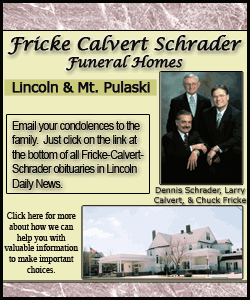 Norma graduated from Lincoln Community High School in 1948, from Decatur Memorial School of Nursing in 1951 and from St. John's School of Anesthesia in Springfield in 1952. She was a member of the alumni association of the nursing school in Decatur.
Memorials may be made to Friendship Manor, Lincoln Fire Department or the Logan County Paramedic Association.
Click here to send a note of condolence to the Boehm family.