Patricia Eigenbrod

Send a link to a friend
[March 15, 2010] MASON CITY -- Patricia Eigenbrod, 76, of Mason City, died Saturday, March 13, 2010, at 11:15 a.m. at Hope Hospice in Fort Myers, Fla.
Her funeral will be at 10 a.m. Friday at Mason City United Methodist Church, with the Rev. Stephen King officiating.
There is no visitation.
Burial will be in Mason City Cemetery.
Arrangements are by Fricke-Calvert-Schrader Funeral Home in Lincoln.

Mrs. Eigenbrod was a homemaker, and she was a piano teacher for over 40 years.

She was born Sept. 1, 1933, in Peoria to John and Marvel Cogdal Hoehn. She married Wayne P. Eigenbrod on April 5, 1953, in Mason City.

She is survived by her husband, of Mason City; two daughters, Marsha (and Jeff) Elsas of Lincoln and Diane (and Tom) Doran of The Woodlands, Texas; one son, Michael (and Ellen) Eigenbrod of Mason City; and six grandchildren.

She was preceded in death by her parents and was the last of her immediate family.

She was a member of Mason City United Methodist Church, where she was pianist and organist and was instrumental in organizing and directing the bell choir. She was also a member of the Euterpeans musical society.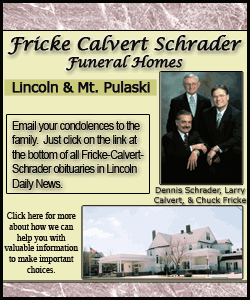 She had attended Illinois Wesleyan University.
Memorials may be made to the building fund at Mason City United Methodist Church.
Click here to send a note of condolence to the Eigenbrod family.