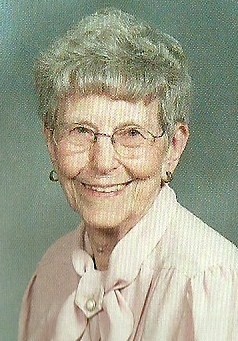 L. Brunell Dietz Haley

Send a link to a friend

[March 16, 2010] LINCOLN -- L. Brunell Haley was called to her heavenly home on Monday, March 15, 2010, at Christian Village Nursing Home at the age of 96.

Her funeral will be at 11 a.m. Thursday at St. Peter Lutheran Church in Emden. Visitation will be 10-11 a.m. at the church.

Burial will be in Mason City Cemetery.

Holland Barry & Bennett Funeral Home in Lincoln is handling arrangements.
Bernie and her first husband owned and operated a dry cleaning and tailoring business before moving to Mason City, where they owned and operated Dietz Florist and Greenhouse for more than 25 years. After his death and her retirement, she met her second husband in Arkansas.
She was born Sept. 23, 1913, in Maynard, Minn., the third of 10 children of Bernt and Melvina Gjerde Docken. Lyla Brunell Docken was welcomed into the Lord's family through the sacrament of baptism at Maynard Lutheran Church on Nov. 23, 1913. She married Walter H. Dietz in Rapid City, S.D., and he preceded her in death in 1980. She married Robert O. Haley on Feb. 27, 1984, in Arkansas, and he also preceded her in death.
She is survived by her son-in-law, Paul Aper of Lincoln; two granddaughters, Kalee (and Lynn) Cross of Atlanta and Kris (and Tom) Lockenour of Lincoln; five great-granddaughters; one sister; two brothers; and many nieces and nephews.
She was also preceded in death by her daughter, Jacquiline "Jackie" Aper, and one granddaughter, Kathy Aper.
Bernie and her first husband, Walt, loved to camp and fish and took many trips to Minnesota and Canada. After his death in 1980, she sold their business in Mason City and moved to Emden.
She then retired to Hot Springs, Ark., where she met her second husband. They spent almost 18 years together, often visiting family in Illinois and Ohio, vacationing in South Dakota and Wyoming, and entertaining family and friends in Arkansas. She moved back to Atlanta in 2002 following Bob's death.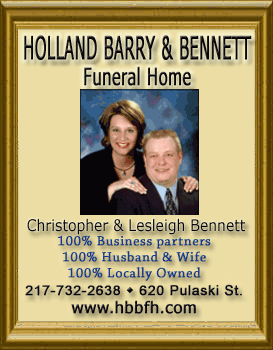 She was a member of St. Peter Lutheran Church in Emden.
Along with her talent for flowers and gardening, Bernie was a wonderful seamstress. She continued this passion well into her 90s, embroidering dish towels for family and friends while at The Christian Village Nursing Home.
She graduated from Maynard High School in Minnesota in 1931.
Click here to send a note of condolence to the family of Brunell Dietz Haley.