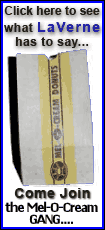 Johnson, the tallest player on either team at 6-foot-10, tied his career high with 15 rebounds.
E'Twaun Moore added 12 points for the Boilermakers (28-5). They were steamed that even President Barack Obama had joined a national chorus predicting the Saints (27-7) would pull a first-round upset in the third consecutive NCAA tournament.
Take that, Mr. President!
Edwin Ubiles scored 18 points for Siena, which came from 15 points down to pull within 66-63 on a layup by Ryan Rossiter off a deft pass by Ronald Moore with 62 seconds left - before Purdue clinched the win with free throws.
Then Lewis Jackson, who had airballed a shot and missed a free throw seconds earlier, made two foul shots. The first, tension-breaking one plopped in after a thud onto the back rim as Jackson sheepishly smiled.
Ronald Moore missed from inside off the front rim at the other end with 40 seconds remaining, and Chris Kramer made two foul shots to put Purdue up 70-63 with 33.9 seconds left. Then Johnson added two free throws with 28.6 seconds to go to make it 72-64.
Only then could the Boilermakers exhale.
Siena leading scorer Alex Franklin had 10 points - but none after halftime - and 12 rebounds, and Rossiter added 10 points and 13 rebounds.
The small school with 3,000 undergraduates outside Albany, N.Y., had beaten Ohio State and Vanderbilt to begin its previous two NCAA tournaments - and talked Thursday of even feeling pressure as a "favored" No. 13 seed.
Purdue's win after a 3-2 stretch without Hummel left No. 13 seeds just 22-80 in games against No. 4 seeds since the tournament expanded to 64 teams in 1985. They added another loss when Wisconsin held off Wofford later in the day.
Purdue's early decision-making on offense - freshman point guard Kelsey Barlow's pass into Siena's zone to no one, a full-court pass over the head of towering Johnson and into the Siena band - had coach Matt Painter sitting on the scorer's table near his bench and yelling, "What are we doing?"
He knew after halftime.
The Boilermakers charged out of the locker room to score the first 13 points.