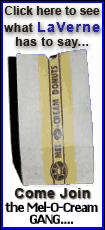 Wilson didn't understand why he was being contacted until he heard the names.
One was a fellow rookie, Aaron Barber. The other was a sponsor's exemption, Annika Sorenstam.
"Someone from the tour contacted me and said, 'The draw is coming out and you're paired with Annika. We want you to talk to the media when the tee times come out, rather than it coming out when you're on the course,'" Wilson said last week. "I knew it was going to be a big deal. I didn't know it was going to be a giant deal."
Imagine how massive the Masters will be.
The two situations are nothing alike. Colonial was a celebration of Sorenstam becoming the first woman in 58 years to compete on the PGA Tour. The Masters could be a circus when Woods returns to golf for the first time since being exposed as a serial wife cheater.
Even so, not since Colonial in 2003 has there been so much interest in tee times.
Wilson's name essentially came out of a hat, thrown in with other rookies and players with the lowest level of status. Augusta National has no policy with its pairings, other than the defending champion traditionally plays with the U.S. Amateur champion.
How will they decide who plays with Woods?
"With great care," said Colin Montgomerie, who is not eligible for the Masters this year. "You'd almost have to ask for volunteers. There's a number of players that will be looking at the draw sheet -- I believe it comes out on Tuesday afternoon -- and will be delighted if they are not playing with Tiger on this occasion."
So who gets him? Perhaps the better question is who wants him?
"I would say it would be a tough pairing, to tell you the truth," said 49-year-old Kenny Perry, who lost in a playoff last year. "I'm old enough to maybe handle that. Maybe you need some hillbilly like me to do that. But it will be different, because I'm sure the players will be focused on Augusta, yet focused on what's going on with him and paying attention to what he's doing out there."
Since his first Masters as a pro in 1997, Woods has played with only two American pros -- Stewart Cink in 2000 and 2009, and Tim Herron in 1999. In eight of his 13 trips to Augusta, Woods has played with an amateur the first two rounds.
"I'd be OK with it," Cink said. "I've known him for a long time. You have to remember this: At the Masters, playing with Tiger Woods is always a little different than it is anywhere else because there's always more of the people that want to see him play there than anywhere else.
"This year, I don't expect it to be a whole lot different than other years just because it's always a little different. There would be more scrutiny, but I'd be fine with it."
It's unclear whether the men in green jackets have asked for a show of hands.
The prevailing thought is they will put Woods with two players not expected to contend, such as a former Masters champion. Where's Doug Ford when you really need him?