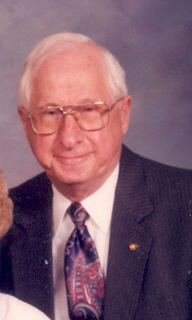 Vernon Rubenking

Send a link to a friend
[May 03, 2010] LINCOLN -- Vernon C. Rubenking, 91, of Lincoln, died Saturday, May 1, 2010, at 3:35 p.m. at St. Clara's Manor.
His funeral will be at 11 a.m. Tuesday at Fricke-Calvert-Schrader Funeral Home, with Dr. Robert Kurka officiating. Visitation will be one hour prior to the service.
Burial will be in Zion Cemetery. Military rites will be conducted by American Legion Post 263.
Mr. Rubenking was a line worker at the bottle factory in Lincoln.
He served in the U.S. Air Force for five years, including Pearl Harbor. He was an aircraft mechanic.
He was born Oct. 14, 1918, in Elkhart. His parents were John and Anna Brohl Rubenking. He married Isabel Jane Seitzer in Lincoln on Feb. 25, 1969. She preceded him in death on Jan. 1, 2001.
He is survived by two stepdaughters, Jane (and Morris) Horchem of Lincoln and Rosemary (and Jerry) Melton of Lincoln; three stepsons, Clifford (and Carolyn) Seitzer of Lincoln, Herbert (and Joyce) Seitzer of Mount Pulaski and Alan (and Janette) Seitzer of Chandler, Ariz.; two brothers, Gordon King of Fairfax, Va., and Earl Rubenking of Fairfax, Va.; one sister, Eddie (and Clyde) Camp of Lincoln; and several stepgrandchildren, step-great-grandchildren and step-great-great-grandchildren.
He was also preceded in death by two brothers, Louis and Glen Rubenking, and one stepgrandson, Michael Seitzer.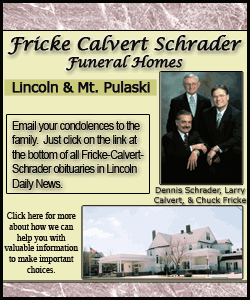 He was a member of Lincoln Christian Church and American Legion Post 263.
Memorials may be made to the Harvest of Talents fund or American Legion Post 263.
Click here to send a note of condolence to the Rubenking family.