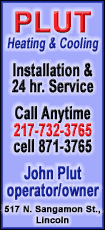 Almost 70 years later, Dalen, traveling with daughter Melissa Kwit and fellow Mount Pulaski resident Everett Streenz, was honored along with 102 other World War II veterans from central Illinois with an expense-paid trip to visit the memorial and other D.C. sites. An organization known as Honor Flight is committed to providing this opportunity to as many veterans as possible, but especially World War II veterans and veterans with terminal illnesses.

The Honor Flight group in central Illinois is known as Land of Lincoln Honor Flight. They were able to make the trip from Springfield on April 28 due to the generous donation of a charter flight made by Southwest Airlines. The group of 104 vets left early in the morning and spent a chilly and rainy day in the nation's capital. They were given matching T-shirts and caps honoring who they are. The shirts bore a saying, "If you can read this, thank a teacher. If you can read it in English, thank a veteran."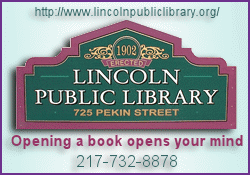 A crowd was on hand to welcome them with banners and music. Their first stop was at the World War II Memorial, which was an emotional event. From there, they were able to view other famous sites, including the other war memorials and the White House, finishing up at Arlington Cemetery.
Throughout the day, groups of school students noticed them and talked to the veterans.
"They were amazed that dad had fought in World War II," Kwit said. "They told him, 'You're a cool dude.' I don't think dad has ever been called 'dude' before!"
They were informed at the changing of the guard at the cemetery to watch the commander. At a certain point in the ceremony, he slid his foot from the side to center position. This is a silent tribute to our nation's World War II veterans, they were told.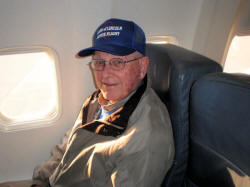 Everet Streenz earns his wings -- first airplane ride at 88 years of age.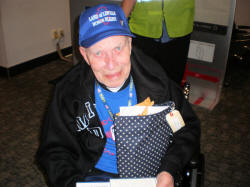 Dalen Shellhammer with his last mail call ditty bag.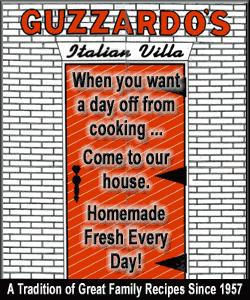 The day ended with the plane touching down in Springfield at approximately 9 p.m. The weary soldiers had more surprises in store for them.
Each soldier received the "last mail call" from our government. Their names were read along with their hometown, and a ditty bag full of mail solicited in advance was given to each one. Mr. Shellhammer received dozens of letters from students of Mount Pulaski Grade School, along with pictures drawn for him. In addition, letters from friends and family filled out the bag.
Then they were escorted into the airport proper by a bagpipe player. They were not aware that a reception was in store, but the airport was filled with greeters, all honoring the returning veterans with signs, media and cheers, but most impressively with military from all branches of the service in full salute.
"It was great," Dalen beamed. "So many people!"
___
To find out more about the Honor Flight charitable organization, go to www.honorflight.org. For central Illinois, check out www.landoflincolnhonorflight.org.
[Story by JO HILLIARD, pictures by MELISSA KWIT]
See also: Mount Pulaski bomber pilot recounted WWII experience