Much of the information in this article was reported by Horn and his crew members at their 100th Bomb Group reunion in Little Rock, Ark., in 1993. "Many of these details had been previously unknown to 100th BG historians for nearly half a century," a source said.

As a B-17 pilot, Lt. Horn was the aircraft commander, or P, with nine other crew members: co-pilot, CP -- handled ground maneuvering; flight engineer, TTE -- top turret, engine health monitor; navigator, NAV -- determined position relative to earth; bombardier, BOM -- delivered payload on target; radio operator, ROP -- communications; ball turret gunner, BTG -- enemy fighter protection; two waist gunners, WG -- right and left enemy fighter protection; and tail gunner, TG -- most important defensive weapon. The installed weapons were .50-caliber Browning machine guns.

Horn's plane was heavily damaged during its fourth mission over Munich and Augsburg, Germany, on March 18, 1944. Besides taking on heavy flak damage, his "Bastard's Bungalow II" B-17 suffered extensive fuselage and multi-engine damage from debris of two damaged B-17s that had pancaked in midair immediately ahead. Horn had to quickly pull the throttles back to avoid becoming the "meat of a sandwich," which was occurring before them. His B-17 508 was able to remain in formation in spite of the heavy damage and proceeded to bomb the Munich rail yards.
On the "homeward-bound leg of their mission," their aircraft took on more flak damage and now could no longer maintain sufficient airspeed to remain airborne much longer. A P-47 fighter plane had been flying escort but had to break off due to its fuel shortage -- with its pilot giving a friendly salute to Horn upon departing. Soon thereafter, two German fighters, ME-109 and FW-190 aircraft, joined up with them, one on each wing. They quickly gave Horn a "thumbs-down" signal, meaning to land in the field below -- immediately.
Horn then radioed his crew that a crash landing had to be made and commenced lowering his landing gear to prevent these enemy fighters from further attacking his stricken and helpless plane -- a "white flag" surrender. He managed to crash-land, with all crew members alive, near Ulm, Germany -- "with Lt. Horn making a super smooth dead-stick, wheels-up landing in a snow-covered field," which initially appeared to be a farm but which turned out to be the grassy edge of Dornstadt Air Field.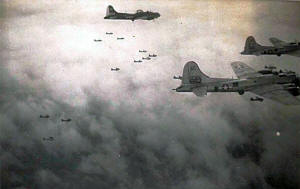 Horn and his crew were quickly greeted by "irate farm workers armed with pitchforks and pistols," preventing their dash to nearby woods to avoid capture. Surprisingly, the ME-190 fighter pilot had landed next to their plane but nosed over and crashed. The pilot was not injured, as he quickly got out and ran over to take control of the capture. Horn and his crew were held captive for 20-30 minutes until German militia men arrived to move them to the nearby Ulm city jail.
Horn ended up in solitary confinement for a time at Stalag Luft III, South Compound Sagan, in Silesia, Germany, following his interrogation at Dulag Luft at Frankfurt. Just two weeks before his death, Bob related that during his captivity at Frankfurt, his interrogating officer showed him his wallet. Bob read the name, Lt. Robert Horn. He said they both managed a smile.
Bob was liberated at Moosburg, Germany, on April 29, 1945, whereupon he was promoted to captain.
Bob also said that he continued to put in his monthly flight hours at Rantoul Air Force Base for about a year after returning to the states, in order to continue receiving half of his flight pay.
The epilogue to "Clipped Wings," a reunion book of the 100th Battle Group, reads as follows:
Allied air men were the first invaders to break into the German stronghold of Europe and Africa. Flying over German-held positions through black clouds of flak and into swarms of yellow-nosed F.W.'s could surely be called nothing less than an invasion. During the air battle of Europe, close to 8000 American Planes and 40,000 American flyers were shot down. But the sub pens bombed out of commission, the marshalling yards hit and the aircraft factories blown up brought war's end years nearer and more than paid for such a great loss. The story as told in the preceding pictures and commentary is an attempt to describe how these early invaders who were forced down adapted themselves to a mode of living completely foreign to their natures.
Bob's inscription included in his reunion book reads as follows:
Property of Robert J. Horn, March, 1984. Shot down over Munich-Augsburg, Germany, Mar. 18, 1944. Liberated at Moosburg, April 29, 1945. Interrogated at Frankfurt. Solitary confinement. Quartered at Stalag Luft III, South Compound, Sagan, Germany.
The "Clipped Wings" reunion book contains this poem:
The fate we share as prisoners is drab and often grim, existing on such scanty fare as Reich bread, spuds and klim. Beds and books and little else to fill time's flapping sail, she makes or loses headway all depending on the mail. Oh drab the days slow to pass within all the joys of living are still in the future tense. So here's to happy days ahead when you and I are free to look back on this interlude and call it history. -- J.B. Boyle
Note: Robert Horn was a very popular but quiet guy in Mount Pulaski all these years, not saying much about his war and captivity experiences until recent years to some of his friends and close acquaintances. He served 35 years in the Mount Pulaski Post Office, about 12 or so as postmaster. He was an avid and excellent golfer.
There are only two left from his crew, both of whom sent flowers to his funeral, which was held in the Mount Pulaski Zion Lutheran Church. He was buried with full military rites in the Mount Pulaski Cemetery.
___
Sources: Capt. Robert Horn, interviewed by Phil Bertoni (Vonderlieth Living Center, Feb. 12 , 2010); "Clipped Wings," a 100th Battle Group reunion book, published by R.W. Kimball, narrated by O.M. Chiesl, 1948; http://www.100thbg.com/
___
Obituary: Robert Horn


A bomber similar to the one Horn and his crew would have flown