YMCA notes

Send a link to a friend

[May 15, 2010] The fourth annual Cow "Chip" Bingo fundraising event is today (Saturday, May 15), at the YMCA Activity Center, 719 Wyatt Ave., from 12:30 to 3 p.m. Cow Bingo tickets are available at $15 each for a chance to win $750. This YMCA Healthy Kids Day event is FREE to attend and will include a three-in-one inflatable bouncer, games and contests, face painting, free hot dogs and drinks, preschool stations, and so much more. Look for local agencies: Lincoln/Logan County Chamber of Commerce with the Watermelon Car, Logan County Sheriff's Department, Lincoln Fire Department and more. There will also be various raffles so bring extra money. Gastrointestinal fun is sure to happen!

For information on Lincoln Area YMCA programs and events, visit the downtown office, 604 Broadway St., Suite 1; call 735-3915; or visit www.lincolnymca.org. The YMCA Activity Center is at 719 Wyatt Ave.
YMCA Girls Basketball Camp is scheduled June 21-24 for girls in first through sixth grade. Join Carol Wilson, Lincoln College women's basketball coach, as she instructs participants in the fundamentals of basketball, including dribbling, passing, shooting and defense. This camp will be at the Lincoln Center on the Lincoln College campus. Register today to avoid any fee increases.

Bring your kids in kindergarten through eighth grade to the Lincoln Elks Club golf course for a week of golfing fun. YMCA Golf Clinic Session A will be June 21-24. Participants will be taught the fundamentals of golf, including club choice, form, stance and swing technique. Lessons will be customized to improve each participant's skills.

Gather your kids ages 4-6 for a summer of sporting fun. Weeball will be May 29-June 19, when participants will be taught basic baseball skills, including the proper way to throw, catch, hit and run bases. An abbreviated game will also be played. Sports of All Sorts will run June 14-17 and will introduce kids to the various skills necessary to play soccer, basketball, baseball and football. This is a great way to see which sport interests your child.

Travel "Around the World in 4 Days" with the YMCA Summer Art Camp. Join art instructor Marion Doble as she helps participants make art from many countries, including masks from Africa, painting from France and so much more. This program is for kids in first through sixth grade and will meet June 21-24 from 9 to 11 a.m. at the Y Activity Center. Registration deadline is June 4.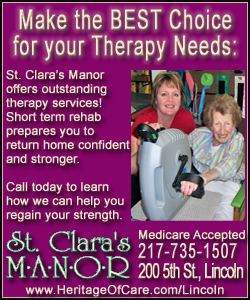 YMCA swim lessons begin June 21 at the Lincoln Elks Club pool, with either morning or evening sessions. This program is for kids 6 months to 12 years with various skill levels. Hurry in to ensure you have a spot as this program fills up quickly.
Registrations for the Y's summer camp program -- Kid Camp and Preteen Camp -- are still being accepted at an increased rate. Both camps will be at the Y Activity Center from 6:30 a.m. to 6 p.m. Participants in both summer camps will enjoy daily activities including games, arts and crafts, character development lessons, swimming, field trips, and so much more.
[Text from file received from Lincoln Area YMCA]