Doris Von Drehle
Send a link to a friend
[May 24, 2010] LINCOLN -- Doris M. Von Drehle, 87, of Normal, formerly of Lincoln, died Saturday, May 22, 2010, at 5:16 p.m. at Heartland Health Care in Normal.
Her funeral will be at 10:30 a.m. Thursday at Fricke-Calvert-Schrader Funeral Home in Lincoln. Visitation will be from 9 to 10:30 a.m. at the funeral home.
Burial will be in New Union Cemetery.
Mrs. Von Drehle was a homemaker.
She was born Nov. 25, 1922, in Lincoln. Her parents were John and Bernadine Koyn Denning. She married William C.F. Von Drehle on March 29, 1943, in Clearwater, Fla. He preceded her in death on April 9, 1998.
She is survived by two sons, Bill "Butch" (and Sue) Von Drehle of Gilman and John Von Drehle of Lincoln; two daughters, Linda (and Ron) Davis of Bourbonnais and Doris Jean (and Mike) Zink of Normal; a daughter-in-law, Valerie Von Drehle of Decatur; one brother, John Denning of Lincoln; 14 grandchildren; and 22 great-grandchildren.
She was also preceded in death by one son, Terry; two brothers, Charles and Clyde; and one sister, Myrtle.
She was a member of Sweet Adelines, enjoyed crafts of all kinds, was an avid camper, and enjoyed spending time with her children and grandchildren and her faithful pet, Duchess.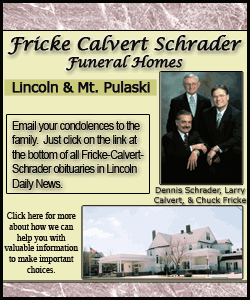 Memorials may be made to the activities fund at Heartland Health Care or to the donor's choice.
Click here to send a note of condolence to the Von Drehle family.