Paul Lessen

Send a link to a friend
[May 27, 2010] HARTSBURG -- A celebration of the life of Paul Gerhard Lessen, a Hartsburg native, will be at 2 p.m. Sunday at St. John's Lutheran Church in Hartsburg.
Lessen, 68, of Minden, La., died Feb. 14, 2010, at 12:15 p.m. after a courageous battle with pulmonary fibrosis.
Burial will be in Hartsburg Union Cemetery with a military detail.
Friends and family are invited to gather at the church fellowship hall after services to visit and share stories of Paul.

Holland Barry & Bennett Funeral Home in Lincoln is handling arrangements.

Mr. Lessen was a retired Air Force master sergeant and a retired postal worker.

He was born June 15, 1941, in Hartsburg. His parents were Albert J. and Pauline Marshall Lessen. He married his first love, Linda, on Oct. 26, 1963, in Shreveport, La.

He is survived by his wife of 46 years; two daughters, Paula Lessen of Ennis, Texas, and Amber (and Phillip) McDown and beloved grandson Nolan Ryan McDown, all of Minden, La; four sisters, Mary (and John) Hindahl of Bloomington, Evelyn Armstrong of Lincoln, Doris (and Lavern) Greig of St. James, Mo., and Carol (and John) Olson of Bloomington; his father-in-law and mother-in-law, Henry and Mildred Collinsworth of Minden, La.; sister-in-law Mary Lessen; sister-in-law Connie (and John) Harwood; brother-in-law Dave (and Dale) Collinsworth; and many nieces, nephews and their families.

He was preceded in death by his parents and his brother, Roy Alan Lessen.

He was baptized and confirmed at St. John's Lutheran Church in Hartsburg. He grew up in a farming family with his older brother and sisters and graduated from Hartsburg-Emden High School in 1959.

He enlisted in the Air Force right out of high school. After basic training at Lackland AFB, Texas, and specialist training at Chanute AFB, Ill., he was transferred to Barksdale AFB, La., and worked first as a mechanic on B-52s, then as a maintenance crew chief for the B-52s and later became a scheduling specialist. He served his country in Vietnam in 1969-1970.

He and his wife shared their joy of adventure and relished each change of station, including 3 1/2 years in England. He was especially proud of his two daughters.

He retired with honor from the Air Force in 1981, joined the U.S. Postal Service in 1982 and retired from there in 2007.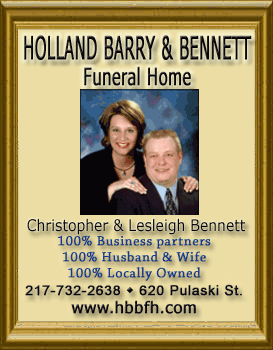 He was an active member of Lakeview United Methodist Church in Minden, La., a member of The Followers of the Way Sunday school class, and he sang in the chancel choir, bringing his portable oxygen the last six months to help him on the long-count notes. Giving him love and respect were all the members of the choir and the musicians. He had previously served his church for many years as trustees chairman and president of the United Methodist Men.
He loved his Lord, studied the Bible faithfully each morning and lived his life as a Christian.
He will be remembered for his hard work as a founding member of the Lakeview Yard Birds. His strong work ethic learned as a child was evident in everything he did.
Paul was an avid golfer and was a member of the Pine Hills Country Club until sidelined by back pain and then lung problems. His "Old Boys Club" was his cheering squad and he looked forward to Monday night suppers.
He was loved and respected by all who ever met him.
In lieu of flowers, memorials may be made to St. John's Lutheran Church in Hartsburg.
Click here to send a note of condolence to the Lessen family.