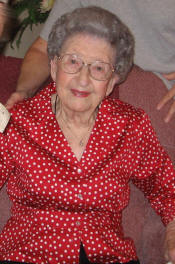 Pauline Brinkmeyer

Send a link to a friend

[May 28, 2010] LINCOLN -- Pauline M. Brinkmeyer, 101, died Tuesday, May 25, 2010, at The Christian Village care center in Lincoln.

Visitation will be 4-7 p.m. Monday at Holland Barry & Bennett Funeral Home, with a rosary service at 4 p.m.

Mass will be read at Holy Family Catholic Church at 10 a.m. Tuesday, followed by burial in St. Mary's Cemetery, west of Lincoln.
She was born Aug. 1, 1908, in Burton View. Her parents were Charles F. and Margaret A. Semple Lechleiter. Her husband, Elmer H. Brinkmeyer, preceded her in death in 2001.
She is survived by her son, Wayne, and his wife, Mariangela, of Les Clayes sous Bois, France; two grandchildren; Vanessa Martinet and her husband, Romain, of London, England, and Alex Brinkmeyer of Bristol, England; and two great-grandchildren, Eurydice and Salome Martinet.
She resided all of her life in Logan and Menard counties, except for the early 1920s, when she moved to Pike County with her parents; her brother, Delbert; and two sisters, Leona and Beulah.
Pauline had a brief working career in Peoria in the late 1930s and commuted daily from Lincoln on the interurban train.
She was a member of St. John's Catholic Church in Middletown and then of Holy Family Catholic Church in Lincoln.
Pauline was active in numerous social clubs in Menard County: the Friendly Neighbors Club in the 1950s, several craft clubs and the Pinochle Club. She played her favorite card game with her friends from Greenview and Petersburg into her 100th year. She belonged to a women's bowling club in Athens in the 1960s and supported the Greenview High School Band, helping with decorations for concerts there.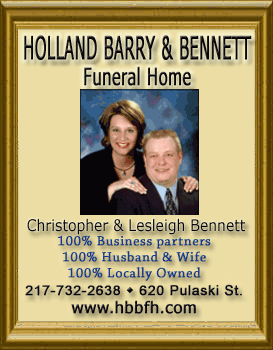 Instead of flowers, any remembrances in the form of donations to Holy Family Church would be appreciated.
Click here to send a note of condolence to the Brinkmeyer family.