Kenneth Tabor

Send a link to a friend
[November 08, 2010] DWIGHT -- Kenneth E. Tabor, 74, of Dwight, formerly of Atlanta, died Friday, Nov. 5, 2010, at 6:48 p.m. at Advocate BroMenn Medical Center in Normal.
His funeral in Dwight will be on Monday at 7 p.m. at Emmanuel Lutheran Church, with the Rev. Jacob Ehrhard officiating. Prior to the service, there will be visitation from 6 to 7 p.m. at the church.
Additional visitation will be on Tuesday at 1 p.m. at Quiram-Peasley Funeral Home in Atlanta. A funeral service will follow at 2 p.m., with the Rev. Chris Hull officiating.

Burial will be in Funks Grove Cemetery, rural McLean.

Mr. Tabor taught at Saunemin High School for 25 years before retiring in 1987. He also taught at Waverly. He was a lifelong farmer, retiring in 2007.

He was born Sept. 29, 1936, in Wapella. His parents were Edward and Madeline Atchison Tabor. He married Lillie Clara Billington on June 7, 1959, in McLean. She preceded him in death on Oct. 7, 1995. He later married Mary Burger on July 13, 1996, in Dwight. She survives.

Also surviving are his children, Patricia (and Ron) Jones of Flanagan, Kenneth Jr. (and Rhonda) Tabor of Plano, Texas, Doug (and Ellen) Tabor of Eureka and Howard (and Beth) Tabor of Paxton; a stepdaughter, Linda Runyon of Wing; his brothers and sisters, Eugene Tabor of Lincoln, Duane (and Sandy) Tabor of Atlanta, James (and Brenda) Tabor of Creve Coeur, Karen (and Bill) Horn of Atlanta, Lyle (and Ruth) Tabor of Congerville, Judith (and Russell) Cook of Beason and Mary Ellen (and Rick) Stevenson of Atlanta; 12 grandchildren; three great-grandchildren; and one stepgrandchild.

He was a member of Emmanuel Lutheran Church in Dwight, where he served as treasurer, on the board of elders, in stewardship and as chairman of the congregation as well as an usher for many years.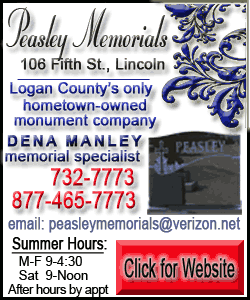 He graduated from Eureka High School in 1954 and Eureka College in 1959.
Memorials may be made to Emmanuel Lutheran Church in Dwight.
Click here to send a note of condolence to the Tabor family.