Cremation rites have been accorded.

A service for Carl and his wife, Norma, who died in October, will be at 10:30 a.m. Monday at Fricke-Calvert-Schrader Funeral Home in Lincoln, with the Rev. John Johnson officiating. Visitation will be 9-10:30 a.m.

Burial will be in Zion Cemetery. Military rites will be conducted by American Legion Post 263.

Mr. Donath put his military training as a telephone lineman to work in 1946 for the Illinois Commercial Telephone Co., which later became General Telephone Co., or GTE. He retired in 1982 after 37 years with the company.

He served in the Army Signal Corps in World War II.

He was born Dec. 17, 1923, in Lincoln, at the home of his parents, John H. and Louise Wietelmann Donath. He married Norma J. Herberger on April 22, 1950, at the home of her parents, Herbert H. and Helen A. Herberger. His wife died Oct. 14, 2010.

He is survived by a daughter, Judy Donath, of Springfield; one sister, Stella (and Leo) Pevsner of Chicago; and several nieces and nephews.

He was also preceded in death by two brothers, John W. Donath and Donald E. Donath, and two sisters, Josephine (and Myron) Wolf and Florence (and Fred) Wolf.

Carl was a lifelong member of Zion Lutheran Church and served as an usher there for over 40 years. He also was a member of the American Legion Post 263.

With the telephone company in the winter of 1947-1948, he worked 17 days straight after a sleet storm. In those days, the work of digging holes, setting poles and stringing wires was all done by hand. Carl had an easygoing, yet conscientious way of handling the various positions he held with GTE. The job he enjoyed the most was record keeper, a position that assigned phone numbers and made assignments for new installations. His favorite project was being the lead installer of the phone system at the Abraham Lincoln Memorial Hospital when it opened in 1954.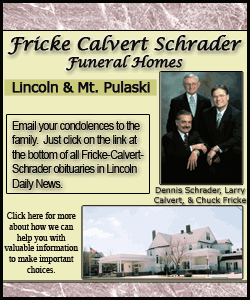 An avid golfer after he retired, Carl played most of the courses of central Illinois. He got a hole-in-one at the Elks Country Club in Lincoln on Oct. 12, 1989, but his favorite course was in LeRoy, as they had the best cheeseburgers. He also enjoyed traveling with his wife and rooting for his favorite baseball team, the St. Louis Cardinals.
A devoted husband and father, he was also a talented handyman who shared those skills to help others.
A lifelong resident of Lincoln, he graduated from Lincoln Community High School in 1941.
Tall for his generation at 6-foot 7, Carl had nicknames of "High Pockets," "Shorty," "Slim," "Too Tall" and "Two Story."
In lieu of flowers, the family requests that memorials be made to Zion Lutheran Church in Lincoln, the flower garden fund at St. Clara's Manor or Senior Services of Central Illinois in Springfield.
Click here to send a note of condolence to the Donath family.