CLASSIFIED ADS
---
PUBLISHER'S NOTICE
Federal and state laws prohibit employment advertisements that express a discriminatory preference on the basis of race, age, sex, color, national origin, religion, handicap, or marital status.
Lincoln Daily News will not knowingly accept advertising for employment which is in violation of these laws. Our readers are informed that employment offerings advertised are available on an equal opportunity basis.
---
POSITION AVAILABLE
Logan County Board
Administrative Assistant/Insurance Administrator
Performs secretarial and administrative duties for the county board; serves as administrator for county insurance programs. Job requirements: clerical and computer skills, organizational skills; ability to work with a variety of personalities. Insurance experience preferred. Salary commensurate with experience.
Submit resume to:
Logan County Board Office
P.O. Box 39
Lincoln, 62656
or email to:
by Monday, November 29, 2010
Logan County does not discriminate on the basis of race, color, age, religion, sex or national origin.

Send a link to a friend
---
is looking for a head teacher qualified person who loves children and desires to help them learn and grow in a Christ-centered environment. Call 732-5750
Send a link to a friend
---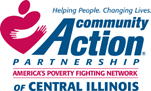 Positition Available
Family Partnership Specialist
for Head Start in Logan County
40 hrs/wk year round
Recruit children for the Head Start program; provide needed services and referrals for the families and children of the Head Start program. Promote and encourage parent involvement in the Head Start program.
Must meet DCFS qualifications for Early Childhood Assistant. AA or BA degree preferred.
Benefits include vacation, personal, sick and holidays, retirement, health, dental, vision and life.
Applications available at:
Community Action
1800 Fifth Street
Lincoln, IL
or at www.capcil.org
Mail completed applications or resume to:
Ellen Burbage, HR Manager
1800 Fifth St.
Lincoln, IL 62656
Must be received by November 16, 2010.
AA/Equal Opportunity Employer. Minorities encouraged to apply.

Send a link to a friend
---
Driver Trainees Needed Now at Werner Enterprises! Earn up to $700 per Week after training. Great benefits! No Experience needed. Local CDL Training Available with TDI. 1-800-272-7364.

Send a link to a friend
---
Handbell Choir Director
St. John United Church of Christ
Please send resume to:
St. John United Church of Christ
ATTN: Handbell Choir Director Search Committee
204 Seventh St.
Lincoln, IL 62656
For questions, contact the church at 217-732-6957, 9-noon or 1-4 p.m., or 217-792-3222 before 4 p.m., or 217-792-5558 after 4 p.m.

Send a link to a friend
---
---