Richard 'Dick' Clampet Jr.

Send a link to a friend
[October 26, 2010] MOUNT PULASKI -- Richard "Dick" Clampet Jr., 57, of Hernando, Fla., formerly of Mount Pulaski, died Oct. 14, 2010, at 6 a.m. at his home.
Visitation will be 4-7 p.m. Friday at Fricke-Calvert-Schrader Funeral Home in Mount Pulaski. His funeral will be at 10 a.m. Saturday at the funeral home, with Bob Twist officiating.

Burial will be in Mount Pulaski Cemetery.

Mr. Clampet was a retired coal miner.

He was born Aug. 21, 1953, in DuQuoin. His parents were Richard L. and A. Genevive Presswood Clampet. He married Cindy Clampet.

He is survived by his wife, of Hernando, Fla.; one daughter, Michelle Clampet-Stonaker of Rochester; his father, Richard L. Clampet Sr. of Coulterville; three grandchildren, Jacob Clampet, Chesney Clampet and Wyatt Stonaker; and brothers and sisters Brenda (and Willie Sr.) Rentmeister of Mount Pulaski, Doug (and Julie) Clampet of Chestnut, Thomas (and Judy) Clampet of Alto Pass and Nancy Knope of Coulterville.

He was preceded in death by his mother and one nephew.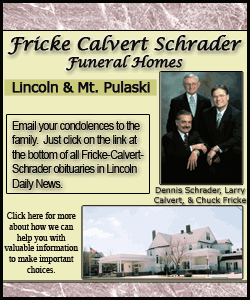 Memorials may be made to the family of Richard Clampet.
Click here to send a note of condolence to the Clampet family.