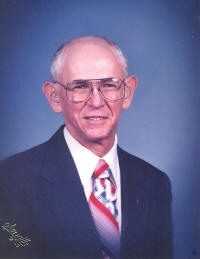 Donald Donath

Send a link to a friend
[September 07, 2010] LINCOLN -- Donald E. Donath, 83, of Lincoln, died Monday, Sept. 6, 2010, at 2:15 a.m. at The Christian Village.
Visitation will be 4-7 p.m. Wednesday at Fricke-Calvert-Schrader Funeral Home in Lincoln.
His funeral will be at 10:30 a.m. Thursday at Zion Lutheran Church of Lincoln, with the Rev. Mark Thompson officiating.
Burial will be in Zion Cemetery, with military rites by Lincoln American Legion Post 263.
Mr. Donath retired in 1989 after 43 years of employment with Commonwealth Edison and Central Illinois Electric and Gas Co.
He served in the U.S. Army during World War II.
He was born April 6, 1927, in Lincoln. His parents were John H. and Louise Wietelmann Donath. He married Dorothy Hahn on June 20, 1948, in Lincoln.
He is survived by his wife, of Lincoln; one son, Gary (and Wilma) Donath of Athens; one daughter, Donna (and Glen) McLaughlin of Atlanta; one brother, Carl (and Norma) Donath of Lincoln; one sister, Stella Pevsner of Chicago; five grandchildren; and 10 great-grandchildren.
He was preceded in death by one brother, John; two sisters, Florence Wolf and Josephine Wolf; and two grandchildren.
He was a member of Zion Lutheran Church of Lincoln, where he was financial secretary and on the board of elders for many years.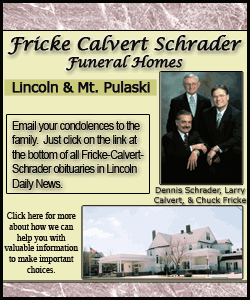 He was a member of American Legion Post 263, CILCO Quarter Century Club, AARP and Heritage In Flight. He was a supporter of the Lincoln High School Golden Fund and Logan County Food Pantry.
Memorials may be made to Zion Lutheran Church or Zion Lutheran School in Lincoln or to the donor's choice.
Click here to send a note of condolence to the Donath family.