Gene McDonald

Send a link to a friend
[April 18, 2011] LINCOLN -- Gene Robert McDonald, 80, of Lincoln, died Sunday, April 17, 2011, at 5:40 a.m. at Abraham Lincoln Memorial Hospital.
Visitation will be 4-7 p.m. Wednesday at Fricke-Calvert-Schrader Funeral Home in Lincoln. His funeral will be at 10:30 a.m. Thursday at the funeral home.
Burial will be in New Union Cemetery.

Mr. McDonald was a teacher, football coach and athletic director at Lincoln Community High School for many years.

He served in the U.S. Navy.

He was born on Dec. 12, 1930, in West Frankfort. His parents were Leo and Golda Hamilton McDonald. He married Billie Jean "Toni" Thompson on Aug. 11, 1957, in Camden, Tenn.

He is survived by his wife; two sons, Rob (and Fawn) McDonald of Murray, Ky., and Andy (and Lisa) McDonald of Lincoln; and five grandchildren, Amanda, Grant, Rachel, Annalise and Logan.

He was a member of Lincoln Christian Church, Illinois High School Athletic Directors Association and Illinois High School Football Coaches Association.

He graduated from West Frankfort High School in 1948 and from Murray State University in 1952. He played on three Ohio Valley Conference champion football teams, being quarterback and team captain his senior season.

He served 40 months in the U.S. Navy, attaining the rank of lieutenant. He was a physical training instructor at U.S. Naval Pre-Flight School at Pensacola, Fla.

In 1956-57 he served as graduate assistant coach in the University of Illinois football program.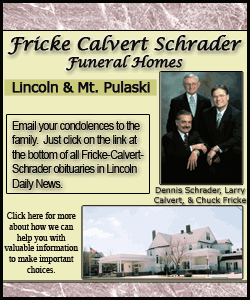 He joined the Lincoln Community High School faculty as physical education teacher and assistant football coach for the 1957-58 school year. In 20 years as Lincoln's head football coach, he compiled an 88-84 record. The 1973 and 1975 teams were Big 12 Conference champions, with the 1975 team going undefeated in the regular season, then losing 8-7 to Griffin in the playoffs.
He also assumed duties as LCHS athletic director for 23 years, during which girls' sports were introduced under the federal Title IX law.
He was inducted into the Illinois High School Football Coaches Association Hall of Fame on April 3, 1982.
In lieu of flowers, memorials may be made to the weight room fund at Lincoln Community High School.
Click here to send a note of condolence to the McDonald family.