Robert Shattuck

Send a link to a friend
[April 18, 2011] LINCOLN -- Robert M. Shattuck, 50, of Lincoln, died Friday, April 15, 2011, at Advocate BroMenn Medical Center in Normal.
Visitation will be 4-7 p.m. Tuesday at Fricke-Calvert-Schrader Funeral Home in Lincoln. Prior to visitation, there will be a prayer service at 3 p.m.
A memorial Mass and celebration of life service will be at 10 a.m. Wednesday at Holy Family Church, 316 S. Logan, with the Rev. Jeff Laible officiating.
Mr. Shattuck was cremated and burial will be at a later date.
He was an architectural designer for J.H. Petty Associates in Springfield for 14 years. With his work as a designer and project manager, he had designed and managed over 100 projects in the Lincoln area, including West Lincoln-Broadwell School, Lincoln City Hall, the Lincoln Recreational Center, Collision Concepts and the new Humane Society building. For his tremendous contributions to the city, the Lincoln City Council declared April 9, 2011, as "Bob Shattuck Day."
Bob was born March 1, 1961, in Grayling, Mich. His parents were Lorraine Larive and Paul Shattuck. He married Mary Stahlhut on Oct. 2, 1982.
He is survived by his wife; three children, Craig (and Thomas Modzelewski) of West Bloomfield, Mich., Emily of Bloomington and Maggie of Bloomington; his mother, of Roscommon, Mich.; one brother, Matthew (and Addie) of Milford, Mich.; and two sisters, Susan (and Russ) Lindsey of Denver, Colo., and Ann (and Mike) Murphy of Livonia, Mich.
He was preceded in death by his father.
Bob was an Eagle Scout and was a scoutmaster in Lincoln for several years. He was also a board member and past chairman of the corporate board of BPOE 914 of Lincoln Elks Club. He was a member of Holy Family Catholic Church.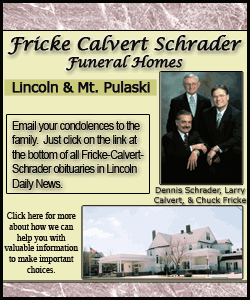 He grew up in Roscommon, Mich., and attended Ferris State University. He later received an associate degree from Lincoln Land Community College.
Living in Bears country, Bob was proud to admit he was a Lions fan, and he became a true Lincolnite when he moved to Lincoln.
Bob felt that his family was his greatest accomplishment in life. Golf and his golfing family became his devotion. His loyal golfing friends became a solid support team who practiced God's love through their great compassion as they helped the family through his two years with cancer.
In lieu of flowers, memorial donations to cover his medical expenses and for a memorial at the Lincoln Elks Golf Course may be made to the Robert Shattuck Benefit Fund at Logan County Bank, 303 Pulaski St., Lincoln, IL 62656.
Click here to send a note of condolence to the Shattuck family.