City, Habitat team up on Arbor Day
Send a link to a friend
[April 21, 2011] Wednesday afternoon the city of Lincoln, represented by Alderwomen Marty Neitzel and Joni Tibbs, joined Habitat for Humanity representatives George Dahmm, Bob Chamberlain and Mike Kubat in planting a tree in the front lawn of Brandy Mullenbach's home.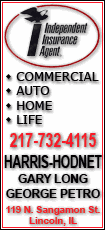 Since 1992 the Logan County Habitat for Humanity has provided a total of 15 homes to deserving people in the community.

The organization is quick to stress that Habitat homes are not free handouts. Would-be homeowners put in sweat equity in Habitat projects including their own home, and when they move in, they take over a mortgage on their property.

Mullenbach's home is the most recently finished project by Habitat. It was dedicated and the keys turned over to her on March 21.

Her home began as a property that was owned by St. Clara's Manor in Lincoln. St. Clara's donated the home and property to Habitat, and the organization took the house down to bare bones, then rebuilt it into a modern and attractive home for Mullenbach.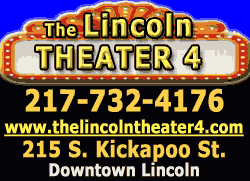 Each year the city celebrates Arbor Day with the official planting of trees. This year they chose to partner with Habitat and will plant at least one new tree at every Habitat home within the city limits.
The group planted a Cleveland Select Pear tree yesterday. This is a medium-sized tree that will grow to a height of 30 to 40 feet. The shape of the tree is a tight, symmetrical oval that requires very little maintenance and is perfect for regions that experience snow, ice and strong winds.
It is a disease- and pest-resistant tree that produces white flowers in the early spring, dark green leaves during the summer months and ends the growing season in a burst of purplish-red color.
City forestry department personnel brought the tree to the Mullenbach home and set it in the ground but left the job of covering the planting with soil to the alderwomen and Habitat representatives.
This year the Arbor Day Foundation theme is "International Year of the Forest."
Forestry department head Tracy Jackson invited Kathy Paulraj to join in the planting ceremony as an international student from India attending Lincoln Christian University.
Paulraj (with Mullenbach on left) said she was very happy to be invited to the ceremony. She has personal experience with Habitat in India and was proud to be a part of something that benefits a Habitat homeowner.
The city of Lincoln has a long-standing designation as a Tree City by the Arbor Day Foundation.
As a Tree City, Lincoln maintains its own tree farm near Adams School on Nicholson Road, practices tree removal and replacement throughout the city, plants new trees each year in observance of Arbor Day, and hosts an Arbor Day coloring contest for local schoolchildren.
Jackson said that this year, the children's contest is going to take place after their Easter break.
The contest is open to all second-grade students in Lincoln. Children will design their own original artwork, with the submission deadline being April 29.
Their work will be judged, and the top winners will be announced at the Lincoln City Council meeting on May 16.
[By NILA SMITH]
Related links