Robert Lowery

Send a link to a friend
[April 29, 2011] LINCOLN -- Robert A. Lowery, 62, of Lincoln, died Thursday, April 28, 2011, at Abraham Lincoln Memorial Hospital after a long, courageous battle with cancer.
Dr. Lowery's funeral will be at 1 p.m. Monday in the Earl C Hargrove Chapel on the Lincoln Christian University campus.
Visitation will be 2-4 p.m. and 6-9 p.m. Sunday at Jefferson Street Christian Church. Additional visitation will be from noon until 1 p.m. Monday at the Earl C. Hargrove Chapel.
Burial in New Union Cemetery in Lincoln will be at a later date.
Arrangements are with Peasley Funeral Home in Lincoln.
Dr. Lowery taught at the college and seminary levels for 36 years while also preaching at numerous churches throughout the United States. He also taught for 19 summers in Vienna, Austria, and Haus Edelweiss.
He was born on Oct. 4, 1948, in Indianapolis, Ind. His parents were Ercel and Velma Lowery. He married Marilyn M. Gaddis on June 5, 1971, in Villa Grove.
He is survived by his wife; one daughter, Rachel (and Joe) Mollet of Pana; one son, Brian (and Sarah) Lowery of Avon, Ind.; and four grandchildren, Carissa MaryLyn, Jocelyn Ainsley, Dawson Robert Mollet and Eden Grace Lowery.
He was preceded in death by his mother, father and one brother, Donald.
He was a member of Jefferson Christian Church.
He attended Lincoln Christian College, Lincoln Christian Seminary and Gordon-Conwell Theological Seminary. He received his Ph.D. from Aberdeen University in Aberdeen, Scotland. He had various writings published, most recently penned "Revelation's Rhapsody" and was in the process of writing his second book.
He enjoyed spending time with his family, especially his grandchildren, as well as traveling to Disney World on many occasions.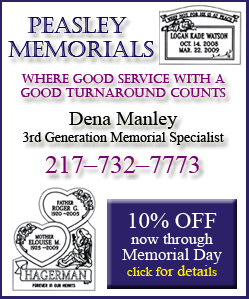 His love and passion for his wife, children and grandchildren was only exceeded by his love and passion for God.
In lieu of flowers, memorials may be designated for the Dr. Robert Lowery Faculty Chair Endowment Fund at TCM International Institute or given to the Carcinoid Cancer Foundation.
Click here to send a note of condolence to the Lowery family.