Violet Twist Krause

Send a link to a friend
[August 05, 2011] LINCOLN -- Violet M. Twist Krause, 87, of Lincoln, died Friday, Aug. 5, 2011, at 1:47 a.m. at The Christian Village.
Her funeral will be at 11 a.m. Monday at Lincoln Christian Church, with Stuart Couve and Ryan Edgecombe co-officiating. Visitation will be 2-5 p.m. Sunday at Fricke-Calvert-Schrader Funeral Home in Lincoln and one hour prior to the service at the church on Monday.
Burial will be at 2 p.m. Monday at Union Cemetery, Washington.

Mrs. Krause was a retired elementary teacher. She taught for District 27 in Lincoln and also at Christian Elementary School in Springfield and at Clinton Elementary School.

She was born on Dec. 26, 1923, in Emden. Her parents were Ricus and Margaret "Alice" Earl Wiekert. She married Oliver M. Twist on March 1, 1944, in Corpus Christi, Texas, and he preceded her in death on June 26, 1960. She later married Otto O. Krause on Dec. 21, 1986, and he preceded her in death on Oct. 4, 2003.

She is survived by three sons, Matthew A. Twist of Moline, Milo O. (and Sherry) Twist of Washington and Robert (and Donna) Twist of Elkhart; two sisters, Evelyn Skoug of Eau Claire, Wis., and Dorothy Snyder of Rockford; two grandchildren; and 11 great-grandchildren.

She was also preceded in death by one granddaughter, Sonya Twist, and one sister, Arline Detloff.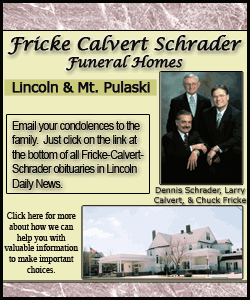 She was a member of Lincoln Christian Church and Illinois Retired Teachers Association.
She was a graduate of Lincoln Christian College and received her master's degree in elementary education from Illinois State University.
Memorials may be made to Lincoln Christian Church or Christian Village.
Click here to send a note of condolence to the family of Violet Twist Krause.