Julia Floyd

Send a link to a friend
[August 08, 2011] ATLANTA -- On Sunday, Aug. 7, 2011, the Lord called Julia A. Floyd, 74, of Atlanta, from the Hopedale Hospital, Hopedale, to enter her eternal heavenly home.
Visitation will be 4-6 p.m. Tuesday at Quiram-Peasley Funeral Home in Atlanta. A memorial service for Mrs. Floyd will be at 10 a.m. Wednesday at the funeral home, with Andy Glass officiating.

Burial will be in Atlanta Cemetery.

She was employed as a secretary at General Electric prior to the birth of her children. She then became a full-time homemaker and devoted herself to her family until she returned to the workforce in 1978 at Funk Seeds and later at HG & N in Atlanta.

Julia Alice was born on Oct. 5, 1936, at the family home in rural Atlanta. She was the third child of Milton A. and Kathleen Hahn Kieszling. She married Eugene H. "Torp" Floyd at her familyís home on June 4, 1955. They had been married for 46 years when he died on May 6, 2002.

She is survived by her daughter, Christine Floyd of Bloomington; her son, Eric Floyd of Atlanta; her sister, Annabelle Kieszling of Atlanta; and her brotherís children and grandchildren.

She was also preceded in death by her parents and her brother, George.

She spoke often of her childhood, especially her days at Hazel Dell, which was a one-room school near her home, and helping her mother gather eggs on the farm. She graduated from Atlanta High School.

She was an active parent, serving as classroom mother numerous times and as a Cub Scout leader.

She enjoyed and was talented in music. She taught both of her children to read music, teaching her daughter to play her piano and her son to play her trumpet.

She was also an excellent seamstress, and she kept an immaculate house.

She spent a considerable amount of time and energy for over 50 years as a member of the Eminence Christian Church, where she was a Sunday school teacher, youth group leader and Vacation Bible School teacher. She held each office as a member of the Eminence Ladies Aid Society numerous times and was heavily involved, along with the other members, in making handmade craft and food items for the annual bazaar. More than anything, she will be greatly missed as a faithful servant at the keyboard, blessing the congregation as her personality was reflected in her style of playing.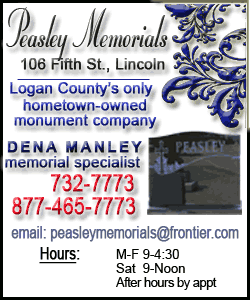 In later years, she enjoyed collecting and playing antique piano sheet music. She also volunteered her time assisting with tasks at the Atlanta Museum.
In the last two years since receiving her diagnosis, she was an excellent example of courage and strength to all who know her as she continued to fight back every time her health tried to knock her down. Prayers for her healing have been answered, as the ultimate answer is heaven.
The family thanks Dr. Pete, Dr. Phil and all of the many staff members who served Julia at the Hopedale Hospital, Nursing Home and Commons. Their generous care helped make the best of a difficult time.
Memorials may be made to the Eminence Ladies Aid Society, the Atlanta Rescue Squad or the building fund at Hopedale Hospital.
Click here to send a note of condolence to the Floyd family.