Marilyn Pegram

Send a link to a friend
[August 08, 2011] LINCOLN -- Marilyn R. Pegram, 75, of Lincoln, died at her home on Thursday, Aug. 4, 2011, after a long illness.
A memorial service for Mrs. Pegram was on Saturday at Peasley Funeral Home in Lincoln.

She was born July 25, 1936, the daughter of William and Marie Poloney Madigan. She married Charles Pegram of Lincoln on June 19, 1955. He preceded her in death.

She is survived by four children, Julia (and Mark) Gerardot of Lincoln, Dr. Lori Pegram of Bloomington, Elizabeth Leake of Sycamore and Dan Pegram (and Susan Knauer) of Lincoln; six grandchildren; and two new great-granddaughters.

She was also preceded in death by three brothers.

Marilyn attended Lincoln schools, graduating in 1954. She was active with the Class of '54 reunion committee and served as chairman several times.

As a child, she was active in the Mariner Scouts and as a mother served as a Girl Scout leader.

She was a member of Epsilon Sigma Alpha philanthropic sorority and an active fundraiser for the Heart Fund, St. Jude Children's Hospital and the American Red Cross.

A lifelong Republican, she was a tireless campaigner on local and national levels.

A strong role model for her children, many nieces and nephews, and the children of her friends, Marilyn persistently admonished them to "Be an individual!"

Her love of cooking and entertaining was enjoyed by many friends. Even as her illness progressed, she loved to host the "Fabulous Five" for lunch and cards.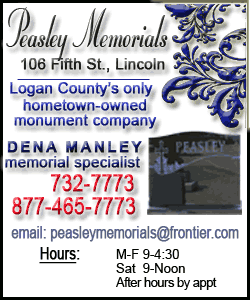 In honor of Marilyn's 75th birthday, her children planted a northern red oak tree in Edward R. Madigan State Park.

Special thanks to Kris Dennison of Hands Across Illinois Home Care Services for the compassionate and dignified way she cared for Marilyn.

Memorials may be made to Veterans of Foreign Wars Post 1756, 915 Fifth St., Lincoln, IL 62656.

Click here to send a note of condolence to the Pegram family.