Mobile pantry, Eli Crane, LCHS band fundraiser, Lincoln Junior Woman's Club trivia night and Rotary chicken dinner make Close Up
By Mike Fak

Send a link to a friend

[August 10, 2011] The Central Illinois Foodbank Mobile Food Pantry will be at the Lincoln/Logan Food Pantry parking lot, 125 N. Logan, on Thursday, Aug. 11, at 6 p.m.
Families and individuals in need of food assistance are encouraged to attend. Bring an empty box or laundry basket to fill.
---

On Saturday, Eli Crane of Lincoln won as the junior novice national champion at the 2011 QMA Dirt Grands in Taylorville. His mom and dad are Jeremy and Stef Crane of Lincoln.'
---

The LCHS band is having a fundraiser this Saturday, Aug. 13, from 10 a.m. to 1:30 p.m. It is a Dodge test drive fundraiser. Dodge will bring new cars to the LCHS parking lot. People in the community are encouraged to come test drive a car, then fill out a short survey. For each person who drives, the band boosters get $20. There is no sales pitch or pressure, just a five- to 10-minute test drive and the survey.
---

A trivia night sponsored by the Lincoln Junior Woman's Club is this Friday, Aug. 12. The event will be at Rusty's, 2810 Woodlawn, with the doors opening at 6 p.m. The game starts at 6:30 p.m.
Trivia teams will play 10 rounds of 10 questions each. You do not need a full table of players to attend. Cost per person includes appetizers and a soft drink. Proceeds will help fund the Lincoln Junior Woman's Club Movie in the Park. The movie "Cars" will be shown on a giant inflatable screen at Postville Park on Sept. 10 and will be free to the public.
The club is also seeking corporate sponsorships for the Movie in the Park, and anyone interested in donating is encouraged to contact the club for more information.
To sign up for the trivia night or for information on Movie in the Park sponsorship, email LincolnJWC@comcast.net or call 217-341-9275.
---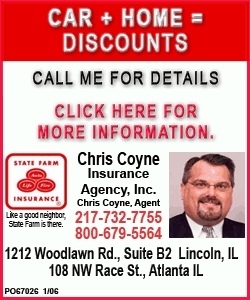 The Rotary Club of Lincoln invites you to a grilled chicken dinner. The drive-thru fundraiser will be on Thursday, Aug. 18, at the Farm Bureau parking lot, at the corner of McLean and Pulaski streets. The delicious meals with half a chicken will be available from 4 to 6:30 p.m. The menu will include mashed potatoes and gravy, corn, and bread and butter.
The cost is $8 per ticket and advance purchases are encouraged. To purchase tickets, call 732-8092 between 8 and 4 p.m.
Proceeds will be used to fund community activities and conduct service projects for the Lincoln and Logan County area.
---