Cheryl Benner
Send a link to a friend
[August 23, 2011] SPRINGFIELD -- Cheryl G. Benner, 67, of Springfield, died Tuesday, Aug. 23, 2011, at 9:46 a.m. at Oak Terrace HealthCare Center in Springfield.
A celebration of life will be at 4 p.m. Sunday at Parkway Christian Church, Springfield, with Pastors Daniel M. Krumrei and Mark Giffords officiating.

A graveside service will be at 2 p.m. Monday at Kline Cemetery, Broadwell.

Arrangements are by Fricke-Calvert-Schrader Funeral Home in Lincoln.

Ms. Benner was a retired school administrator for Springfield District 186. She had taught for 35 years.

She was born on March 29, 1944, in Lincoln to Darrell and Ruth "Finny" Awe Benner.

She is survived by one brother, Lee (and Sarah) Benner of Broadwell; one sister, Audrey Roman of Springfield; and two nieces, Allison and Kathryn Benner.

Her parents preceded her in death.

She was a member of Parkway Christian Church of Springfield and had a variety of leadership roles there. She also held various offices in the Springfield Education Association and was a member of the Springfield Principals Association, Illinois Retired Teachers Association, Land of Lincoln Retired Teachers, Lincoln Memorial Garden, Springfield Children's Museum and PTA.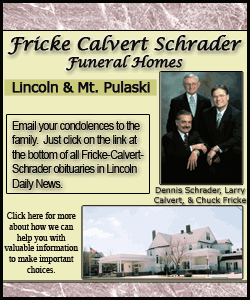 Memorials may be made to Sangamon County Relay for Life, Logan County Relay for Life or Parkway Christian Church of Springfield.
Click here to send a note of condolence to the Benner family.