Lincoln - Wendell W. "Windy" Lewis, Jr., 79 of Lincoln passed away on Wednesday, December 21, 2011 at 1:48 a.m. at Abraham Lincoln Memorial Hospital.

A Memorial Service for Mr. Lewis will be held on Tuesday, December 27, 2011 at 2:30 p.m. at Holy Family Catholic Church in Lincoln with Rev. Simon Taabu officiating. Military Rites will be accorded by American Legion Post # 263 of Lincoln.

Visitation will be held from 1:00 p.m. until 2:30 p.m. at the church on Tuesday.

Burial will be in St. Mary's Cemetery in Lincoln at a later date. Cremation Rites have been accorded.
Peasley Funeral Home is in charge of arrangements.

Wendell William Lewis Jr. was born on November 18, 1932 in Minneapolis, Minnesota the son of Wendell W. Lewis Sr., and Veronica Wirth Lewis. He married Jill A. Tremper from Sandwich, Illinois.

Windy attended grade and junior high school in Minneapolis, MN. His family moved to Lincoln the day before classes began in the fall of 1946. During high school, Windy participated in football, basketball, and track. He was his junior class president and a member of the Student Council and National Honor Society. After graduating high school , Windy attended Bradley University on a scholarship participating in freshman football and track.
In 1952, with Uncle Sam close behind, he transferred to the University of Minnesota. Windy entered the United States Army in January of 1953. He was stationed in California. Due to his background as a lifeguard and water safety instructor, he was assigned to Special Services as a lifeguard at Fort Hunter Liggett Military Reservation.
After the Military Service, he graduated from Illinois Wesleyan University, while at the time he was employed at the home office of State Farm Insurance. In 1961, he opened Spruce Up Men's Clothing Store in downtown Lincoln. He owned and operated Spruce Up for 17 years. After closing his store he worked as a fiscal monitor for the State of Illinois.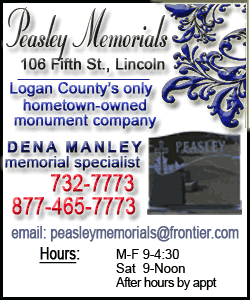 Windy embraced his family unconditionally; he recycled everything with the belief that saving God's earth was giving back for his many blessings. He is loved!
He is survived by his loving wife: Jill, two daughters: Cindy (Steve) Goodman and Stephanie Winter both of Lincoln, Seven grandchildren: Zachery (Jackie) Winter of Yorkville, Steven (Jessica) Goodman of Lincoln, Danielle Winter of Springfield, Shanna (Chris) Schneider, Shanae (Bret) Tripplett both of Lincoln, Desirae Winter of Mattoon and Isaac Lewis of Lincoln, two great grandchildren Ellie Grace and Finley Jack Winter, one brother: M. Todd (Joan) Lewis of Lincoln.

He was preceded in death by his parents and his younger brother: Kingsley Lewis.

Memorials may be made to Carroll Catholic School or Holy Family Food Pantry.

Click here to send a note of condolence to the Lewis family.