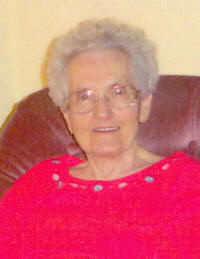 Mary Wheeler

Send a link to a friend
[July 14, 2011] LINCOLN -- Mary L. Wheeler, 83, of Lincoln, died Wednesday, July 13, 2011, at her home.
Visitation will be from 9 to 11 a.m. Saturday at Fricke-Calvert-Schrader Funeral Home in Lincoln. The Rev. Greg Wooten will conduct her funeral service at 11 a.m. Saturday at the funeral home.
Burial will follow in New Union Cemetery.
Mrs. Wheeler's 51 years of employment included work at Stetson's China Factory, Lehn & Fink, and 24 years at Lincoln Developmental Center as a clothing aide.
She was born on April 21, 1928, in Lincoln to Russell and Margaret Smith. She married Joe W. Wheeler on April 25, 1952, in Lincoln, and he preceded her in death on Dec. 4, 1998.
She is survived by one son, Joe Warren Wheeler of Las Vegas, Nev.; two grandchildren, Brent Joel (and Emily) Wheeler of Lubbock, Texas, and Lalania Noel (and Doug) Zwaga of Lake Geneva, Wis.; two great-grandchildren, Christian Warren Wheeler and Azure Katherine Wheeler, both of Lubbock, Texas; and one brother, Robert Eugene (and Bonnie) Smith of Monticello.
She was also preceded in death by three sisters, Leela, Dorothy and Anita Kay; and one brother, Allen Wayne Smith.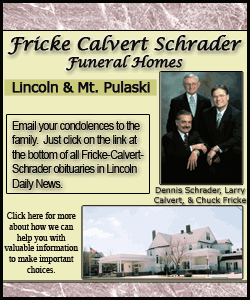 She was a member of First Nazarene Church of Lincoln, and memorials may be made to her church.
Click here to send a note of condolence to the Wheeler family.