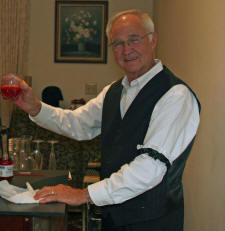 Wayne Coffey

Send a link to a friend
[July 19, 2011] HARTSBURG -- Wayne Alfred Coffey, 68, of Hartsburg, died Sunday, July 17, 2011, at Memorial Medical Center in Springfield.
His funeral will be at 10 a.m. Wednesday at St. John's Lutheran Church in Hartsburg. Visitation will be at the church on Tuesday from 5 to 7 p.m. and an hour prior to the service on Wednesday.
Burial will be in Hartsburg Union Cemetery, with military honors performed by American Legion Post 1146.
Holland Barry & Bennett Funeral Home in Lincoln is handling arrangements.
Mr. Coffey was employed as an inspector for Caterpillar for several years.
He was born Dec. 22, 1942, in Carlinville. His parents were Wendell Oliver Coffey and Ethel Margaret Lolling Coffey. He married Twila Miller on April 12, 1964, in Lincoln.
He is survived by his wife, of Hartsburg; two sons, Gregory Wayne Coffey of Lincoln and Darrin Lee (Barb) Coffey of Lincoln; one daughter, Shelley Lene' (and Ross) Thomas of Hartsburg; four grandchildren, Jonathan Caleb Thomas, Madelyn Paige Thomas, Kendall Lene' Coffey and Morgan Alise Coffey; and two brothers, James Wendell (and Darlene) Coffey of Metamora and Roger Dean Coffey of Hartsburg.
He was a member of St. John's Lutheran Church in Hartsburg and was the acting secretary for Hartsburg American Legion Post 1146.
He was the 4-H superintendent of rabbits at the Logan County Fair and also traveled to area fairs to judge the rabbits. He was a member of the American Rabbit Breeders Association, Illinois Rabbit Breeders Association, the Californian Rabbit Specialty Club and the Bloomington-Normal Rabbit Breeders Association.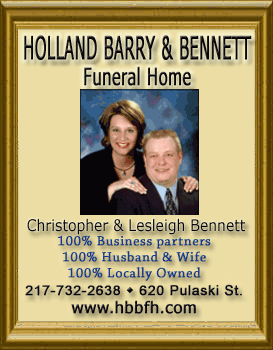 He donated time to the Hartsburg-Emden FFA, where he and his wife were named honorary members.
Memorial donations may be made in his name to American Legion Post 1146 in Hartsburg, the Californian Rabbit Specialty Club Memorial or Hartsburg-Emden FFA.
Click here to send a note of condolence to the Coffey family.