Daniel Maxey

Send a link to a friend
[July 21, 2011] ATLANTA -- Daniel M. Maxey, 64, of Atlanta, died Thursday, July 21, 2011, at home, surrounded by his family.
Visitation will be from 11 a.m. until 1 p.m. Saturday at Holland Barry & Bennett Funeral Home in Lincoln. His funeral service will be at 1 p.m. Saturday at the funeral home.

Burial will follow in New Union Cemetery, Lincoln.

Mr. Maxey was the former owner of Maxey Plumbing.

He served in the U.S. Army during the Vietnam War.

He was born April 29, 1947, in Morgantown, Ky. His parents were James Marion Maxey and Bonnie Lee McCoy Maxey.

He is survived by one son, Craig (and Becky) Maxey of Lincoln; one daughter, Cathy (and Brad) Leonard of Atlanta; 11 grandchildren; four great-grandchildren; two brothers, Ivan (and Dora) Maxey of Clarksville, Tenn., and Benjamin Johnson of Lincoln; and four sisters, Jimma Lee (and Leon) Hampton of McRae, Ark., Phyllis Dobbs of Lincoln, Rita (and Ray) Satterly of Lewisville, Ky., and Valretta Hinds of McRae, Ark.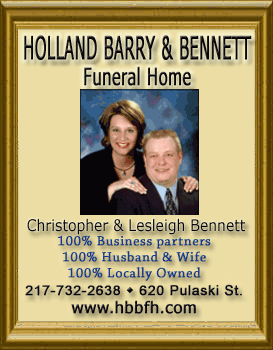 He was preceded in death by his parents; one son, Melvin Maxey; and three sisters.
Click here to send a note of condolence to the Maxey family.