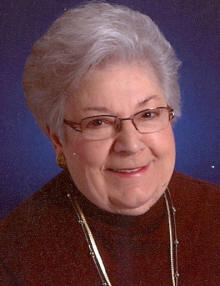 Jean Gala

Send a link to a friend
[July 25, 2011] LINCOLN -- Jean Anita Gala, 78, of Lincoln, died Friday, July 22, 2011, at St. John's Hospital in Springfield, surrounded by her loving family.
Visitation will be 4-6 p.m. Monday at Fricke-Calvert-Schrader Funeral Home in Lincoln, following the rosary being recited at 3:30 p.m.
Her funeral will be at 10 a.m. Tuesday at Holy Family Church, with the Rev. Jeffrey Laible officiating.
Burial will be in St. Mary's Cemetery.

Mrs. Gala was a public health nursing instructor at the University of Illinois College of Medicine in Peoria before she retired in 1992. Later she taught at Illinois Wesleyan University in Bloomington from 1993-1995. In the 1960s, she was stationed in Ethiopia for two years with the World Health Organization and met her husband there.

She was born on Feb. 20, 1933, at Ste. Marie. Her parents were Bernard and Ursula Gangloff Huff. She married Dr. Stojan Paul Gala on Dec. 30, 1968, in Ste. Marie. From 1968-1973 they lived in Slovenia, where their two children were born. Her husband preceded her in death in 1993.

She is survived by one son, Michael Gala (and Shelley Cohen) of Washington, D.C.; one daughter, Juliana "Julie" (and John) Grayson of Washington, D.C.; four grandchildren, William Gala Grayson, Alexander John Grayson, Sienna Jordan Gala and Sabrina Raine Gala; five sisters, Ann (and Jack) LaMothe of Lincoln, Lucie (and Rich) Gorman of Springfield, Mary Rushin of Joliet, Julie "Judy" (and Rick) Martin of Bourbonnais and Geri (and Vince) Andiorio of Oak Forest; and one brother, Bernard (and Lynn) Huff of Rising Sun, Ind.

She was a member and Eucharistic minister of Holy Family Church, a member of Lincoln Elks Lodge 914, Emily's List, Smithsonian Institute and was a Master Gardener.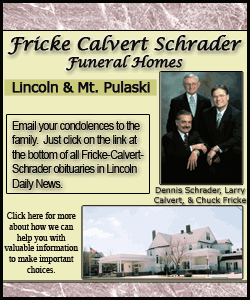 She graduated from St. John's School of Nursing as a registered nurse, received her BSN from University of Minnesota, MSN from The Catholic University of America in Washington, D.C., and attended the Ph.D. program in education at Illinois State University.
Memorials may be made to Carroll Catholic School, or you may make a memorial donation to help a young friend of Mrs. Gala, 5-year-old Annabelle Bozarth, who is diagnosed with a devastating disease called MPS IVA. The donation may be made online at www.mpssociety.org. Please indicate that your general donation is in memory of Jean Gala, who herself has made generous donations to the National MPS Society in hopes of helping her young friend.