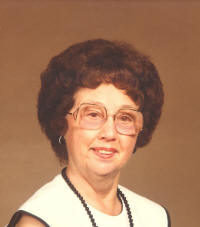 Sarah Jacobs

Send a link to a friend

[June 13, 2011] LINCOLN -- Sarah I. Jacobs, 92, of Lincoln died Saturday, June 11, 2011, at Abraham Lincoln Memorial Hospital. She was a resident of St. Clara's Manor.

There will be no visitation. A private family graveside service will be at Old Union Cemetery.
Fricke-Calvert-Schrader Funeral Home in Lincoln is in charge of arrangements.
Mrs. Jacobs was a homemaker.
She was born Sept. 11, 1918, in Delavan. Her parents were Rudolph and Nelle Marshall Steiger. She married Richard K. Jacobs on Jan. 22, 1939, in Lincoln, and he preceded her in death on May 22, 1995.
She is survived by two sons, Richard (and Diana) Jacobs of LaPorte, Ind., and Marshall H. Jacobs of Springfield; four grandchildren, Elizabeth D. Jacobs, Richard J. Jacobs, Derek (and China) Jacobs and Kara L. Jacobs; and one great-grandson, Parker Alan Jacobs.
She was also preceded in death by one daughter, Diana I. Jacobs, and one sister, Ester E. Klokkenga.
She was member of First United Methodist Church in Lincoln.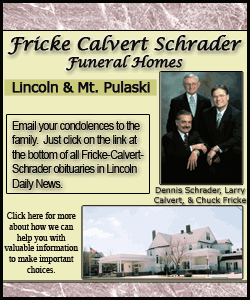 She was an avid gardener who loved growing new and different plants in her yard.
She was devoted to her husband, children and grandchildren.
Memorials may be made to St. Clara's Manor or the First United Methodist Church.
Click here to send a note of condolence to the Jacobs family.