CLASSIFIED ADS
---
PUBLISHER'S NOTICE
Federal and state laws prohibit employment advertisements that express a discriminatory preference on the basis of race, age, sex, color, national origin, religion, handicap, or marital status.
Lincoln Daily News will not knowingly accept advertising for employment which is in violation of these laws. Our readers are informed that employment offerings advertised are available on an equal opportunity basis.
---
Bookkeeping position available at local community bank. Bookkeeping, accounting, and computer experience preferred. Please mail resume with a cover letter and references to:
The Farmers Bank
Attn: Vice President
PO Box 170
Mt Pulaski IL 62548


Send a link to a friend
---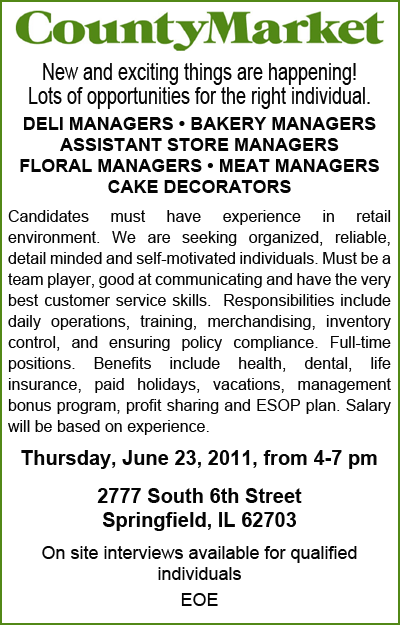 Send a link to a friend
---

Send a link to a friend
---
Trinity Episcopal Church in Lincoln, has an opening for an accomplished organist/pianist.
The job requires that the applicant be committed to play 3 Sundays per month, play all applicable evening services and attend weekly choir practices. Applicants should be accomplished in playing traditional, liturgical hymns.
Interested parties should contact Stacie Wachtel, Senior Warden -- 309 533 1122 or email -- staciewachtel@yahoo.com for a detailed/complete job description.
A resume with references is requested.

Send a link to a friend
---

POSITIONS AVAILABLE NOW
RETAIL SALES CONSULTANTS
The Cellular Connection, a premium Verizon Wireless/DISH Network retailer is searching for dynamic Retail Sales Consultants in Lincoln, IL.
Excellent earnings and benefits! Sales experience required.
Email resumes to:
ccarruthers@mooreheadcomm.com

Learn more about The Cellular Connection
www.ecellularconnection.com

Send a link to a friend
---
---