Lincoln Daily News
welcomes letters of appreciation, information and opinion on matters pertaining to the community.
As a community we need to be able to talk openly about matters that affect the quality of our lives. The most effective and least offensive manner to get your point across is to stick to the issue and refrain from commenting on another person's opinion. Letters that deviate from focusing on the issue may be rejected or edited and marked as such.
.
You may also send your letters by email to ldneditor@lincolndailynews.com
or by U.S. postal mail:
Letters to the Editor
Lincoln Daily News
601 Keokuk St.
Lincoln, IL 62656
Letters must include the writer's name, telephone number, and postal address or email address (we will not publish address or phone number information). Lincoln Daily News reserves the right to edit letters to reduce their size or to correct obvious errors. Lincoln Daily News reserves the right to reject any letter for any reason. Lincoln Daily News will publish as many acceptable letters as space allows.
To the editor:

This past Saturday my husband and I had shopped for food items at Walmart. I became overly warm while inside the store, and by the time we reached the checkout, I was feeling quite shaky. I have diabetes. I grabbed a candy bar from the checkout area and had the clerk ring it up first.

As we got outside, I began feeling dizzy and confused. The parking lot seemed to sway, and I felt I was on a large ship on the ocean. I was unable to say anything to my husband.

At the moment when my knees started to buckle, I heard a very kind voice ask me if I needed help. I looked into the face of a very concerned lady who came to my aid. I want to thank this lady, Paula Schwaub, (I hope I spelled your name correctly). It takes a certain person to take the time to come to the aid of a complete stranger.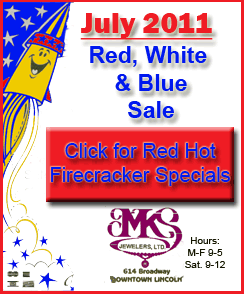 Paula, I am so thankful you were there and could tell I was in trouble. The time you took from your schedule to help me to the truck is very moving even today. Your quick action got my husband's attention as I was unable to communicate to him. I will always remember your concern and kind words. I hope by chance we meet again, but under different circumstances. If we should never meet again, please know that I will never forget your kindness.
Lois Kratzner
[Posted June 20, 2011]