Dr. Dean Hauter

Send a link to a friend
[June 20, 2011] LINCOLN -- Dean Alden Hauter, M.D., 86, died peacefully on Friday, June 17, 2011, at The Christian Village, where he had lived since 2008.
A celebration of life will be scheduled later.
Fricke-Calvert-Schrader Funeral Home in Lincoln is in charge of arrangements.

Dr. Hauter opened his medical practice in San Jose in 1948. He moved his practice to Lincoln in 1972 and was a founder and board member of Family Medical Center. He retired in 1991.

He was born June 30, 1924, in Morton. His parents were Ben S. and Matilda Kuntz Hauter. He married Sara Doering on Halloween 1947.

He is survived by his wife; his daughter, Sally Doering Hauter; his son, Dru Doering Hauter, M.D., and daughter-in-law Marcia Kay Hauter, M.D.; and two grandchildren, Emily Ann Hauter and Ben Christian Hauter.

He attended both grade and high school in Morton and graduated as valedictorian in 1942. While in Morton, he played piccolo and flute in the school and village band.

He began pre-med, chemistry classes at the University of Illinois in Champaign-Urbana and played in the Marching Illini band. He was in ROTC and in 1943 joined the Navy. He received his medical education at the U of I in Chicago while stationed at Great Lakes Naval Base. He lived at Navy Pier while attending medical school. He graduated in 1946 and interned at St. Francis Hospital in Peoria.

He met his future wife, from East Peoria, while riding the interurban train as she was commuting to Illinois State Normal University. They married and settled in San Jose, where he opened his own medical practice.

"Doc" was drafted into the Air Force and served as head of outpatient services at Castle Air Force Base in Atwater, Calif., in 1955. He returned home from California in 1957 to his practice in San Jose. He was proud of his honorable discharge from the Army, Navy and Air Force.

Dr. Hauter made hospital rounds in Lincoln and Pekin. He had morning, evening and afternoon office hours in San Jose.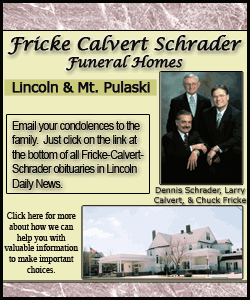 He served on the school board in San Jose, was active in the San Jose Methodist Church and Masons, and was a member of American Legion Post 1269 in San Jose. He sang at many weddings and funerals and organized the San Jose Community Choir.
He was an avid bird hunter and raised many bird dogs. He was a member of the Riverside Rod and Gun Club.
Dr. Hauter served several terms as president of the staff at Abraham Lincoln Memorial Hospital. He was medical director of The Christian Village and served as medical director of St. Clara's Manor. He started a Parkinson's Disease Support Group at ALMH. He introduced two new Dr. Hauters, as his son and daughter-in-law joined the Family Medical Center in 1991. Parkinson's disease was making it hard for him to write orders and he retired from active medical practice that year.
He loved the outdoors: hunting, fishing and water skiing. He continued to snow ski until his senior years in Taos, N.M. His ashes will be scattered on "good hunting ground" per his wishes.
Donations in his name may be made to help build and maintain the Lincoln FC Soccer Complex in Lincoln, c/o Dean Hauter, MD Memorial, 1275 2300th Ave, Kenney, IL 61749.
Click here to send a note of condolence to the Hauter family.