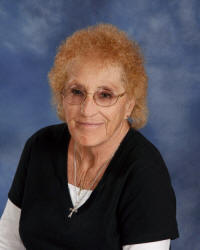 Helen Ertel

Send a link to a friend
[June 21, 2011] LINCOLN -- Helen D. Ertel, 69, of Lincoln, died Monday, June 20, 2011, at 7:30 p.m. at Memorial Medical Center in Springfield.
Her graveside service will be at 11 a.m. Thursday at New Union Cemetery, with the Rev. Robert Henderson officiating. Visitation will be at Fricke-Calvert-Schrader Funeral Home in Lincoln one hour prior to the graveside service.
A celebration of her life will be at 11 a.m. Sunday at First Baptist Church of Lincoln.
Mrs. Ertel had worked at Lincoln Developmental Center in housekeeping and laundry and was a foster grandmother.
She was born June 26, 1941, in Spring Valley. Her parents were John and Opal Chirinski. She married Lloyd Lee Ertel on May 20, 1970, in Springfield, and he preceded her in death on Sept. 15, 2008.
She was the last of her immediate family.
Helen was baptized and attended First Baptist Church.
She loved animals, shopping, music and especially her many friends.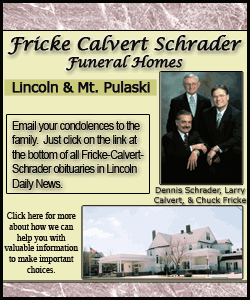 Memorials may be made to First Baptist Church of Lincoln.