Send a link to a friend
[June 22, 2011] LINCOLN -- Dorothy Ann Paulis, 85, of Lincoln, died Tuesday, June 21, 2011, at 12:37 p.m. at Memorial Medical Center, Springfield.
Mrs. Paulis donated her body to medical science. There will be no services or visitation.
Arrangements are by Fricke-Calvert-Schrader Funeral Home in Lincoln.
She was employed by Central Illinois Electric and Gas and the regional superintendent of schools.
She was born Nov. 7, 1925, in Lincoln. Her parents were John Thomas and Helen Mathein Musick. She married Stanley F. Paulis Sr. on April 9, 1948, in Lincoln.
She is survived by her husband; two sons, Stanley F. (and Juanita) Paulis Jr. of Springfield and Michael (and Mary Ann) Paulis of Springfield; one daughter, Helene Paulis of Lincoln; four grandchildren, Jeff (and Heather) Paulis, Julie Paulis, Michel (and Ron) Watkins and John Paulis (and Krystin Hovanes); three great-grandchildren, Michael and Ava Watkins and Avery Paulis; and one brother, John Thomas Musick Jr. of Lincoln.
She was preceded in death by two brothers, Harold and Robert Musick; and four sisters, Donnabelle Carpenter, Marian Schultz, Helen Polley and Gwendolyn Musick.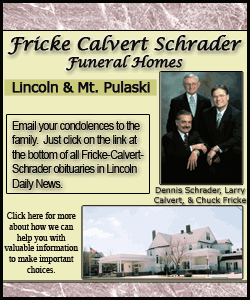 She was a member of Holy Family Church and Daughters of Isabella.
Dorothy was an avid supporter of Carroll School. Her hobbies included reading, keeping up on Facebook and her emails, and doing crafts. She enjoyed special times with her grandchildren and great-grandchildren.
Memorials may be made to the Humane Society of Logan County.
Click here to send a note of condolence to the Paulis family.