Paul Gambrel

Send a link to a friend
[March 28, 2011] SPRINGFIELD -- Paul C. Gambrel, 86, of Springfield, died Sunday, March 27, 2011, at 8:45 p.m. at St. John's Hospice.
Visitation will be 9-11 a.m. Wednesday at Fricke-Calvert-Schrader Funeral Home in Lincoln. Masonic services by Greenview Masonic Lodge will be at 9 a.m.
His funeral will be at 11 a.m. Wednesday at the funeral home, with the Rev. Becky Barrow officiating.

Burial will be in Richmond Grove Cemetery, New Holland, with military rites.

Mr. Gambrel was a supervisor of M&W for the Illinois Central Railroad.

He was a U.S. Navy veteran of World War II.

He was born on March 21, 1925, at Middletown. His parents were Raymon and Lillian McCawley Gambrel. He married Bonnie M. Duginger on Jan. 1, 1946, at Middletown.

He is survived by his wife, in Springfield; one daughter, Vicky (and Ron) Klokkenga of Lincoln; a sister-in-law, Helen Cecil of Lincoln; and two cousins, Sara McCawley of New Holland and Kathy (and Rex) Thompson of Naperville.

He was the last of his immediate family.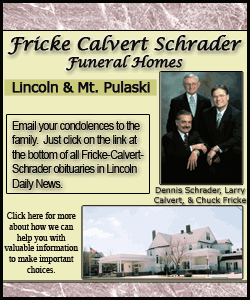 Paul was a member of the New Holland United Methodist Church, Greenview Masonic Lodge; Scottish Rite Temple of Bloomington, Ansar Shrine of Springfield and American Legion Post 715 of New Holland.
Memorials may be given to New Holland Methodist Church, St. John's Hospice of Springfield or American Heart Association.
Click here to send a note of condolence to the Gambrel family.