Duane Huffman

Send a link to a friend

[March 28, 2011] LINCOLN -- Duane M. Huffman, 93, of Lincoln, died Saturday, March 26, 2011, at 4:21 p.m. at St. Clara's Manor.

His funeral will be at 11 a.m. Tuesday at Fricke-Calvert-Schrader Funeral Home in Lincoln. Visitation will be from 10 to 11 a.m. at the funeral home.

Burial will be in Old Union Cemetery, with military rites.
Mr. Huffman worked at Lincoln Developmental Center for 10 years, was a bookkeeper overseas for the U.S. government and worked for Lober Electric in Lincoln as an electrician.
He served overseas in the U.S. Army during World War II in the 112th Cavalry Regiment in the South Pacific. He was awarded four Bronze Stars for the Bismarck Archipelago, New Guinea, Southern Philippines and Luzon campaigns.
He was born Oct. 2, 1917, in Lincoln. His parents were Albert M. and Grace Ingram Huffman.
He is survived by several cousins, Jo Ann Awe, Marilyn Tisdale, Helen Hubner and Nancy J. Awe, all of Lincoln.
He was of the Baptist faith.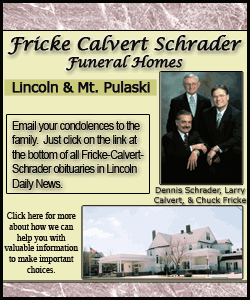 Memorials may be given to the Humane Society of Logan County.
Click here to send a note of condolence to the Huffman family.