Duane Skelton

Send a link to a friend
[March 28, 2011] LINCOLN -- Duane Edwin "Du" Skelton, 61, of Commiskey, Ind., formerly of Lincoln, died Tuesday, March 22, 2011, at 6 a.m. at his home near Commiskey.
Military services were conducted at 7 p.m. Saturday by Chaplain Don Maddex and Chaplain Billy Chatham at the Morgan & Nay Funeral Centre, 325 Demaree Drive in Madison, Ind. There was a visitation period from 4 to 7 p.m.
In Lincoln, friends may call at Holland Barry & Bennett Funeral Home, 620 Pulaski St., on Tuesday, March 29, from 3 until 7 p.m. Military honors will follow at 7.

Mr. Skelton was employed with Arvin Sango in Madison, Ind., the past 10 years as a machine operator. He had worked as an over-the-road trucker for many years. He also worked as a union laborer and for Precision Products in Lincoln for several years.

He served in the U.S. Army during the Vietnam War.

He was born Jan. 1, 1950, in Greenview. His parents were Burt and Marie Allen Skelton. He was raised in Lincoln and lived there most of his life. He married Sue Elsler Walta on Dec. 3, 2002, in Madison, Ind. He had lived in Jefferson County, Ind., since 2000.

He is survived by his wife, of Commiskey, Ind.; his daughter, Bridget Sparks and her husband, Wes, of Crystal Lake; his stepdaughter, Susie Kiel of Madison, Ind.; his stepson, Gary Stone of Dupont, Ind.; his mother, Marie Skelton of Lincoln; his sisters, Joyce Skelton of Lincoln, Mary Hashman of Springfield and Linda Hashman of Danville, Ky.; his twin brother, Dean Skelton, and his wife, Joyce, of Middletown; his brother Buck Skelton of Lincoln; his grandsons, Nathaniel, Kaston and Jace of Crystal Lake; his stepgrandchildren, Haley Caplinger, Chelsea Caplinger, Daniel Gehrke, Ashleigh Knudson, Josey Kiel, Damon Bradshaw, Alisha Mashburn, Rene Garland and Brandy Garland; his step-great-grandchildren, Dayton Bolton, Alicia Keller, Halie Mae Mashburn and Myra Sue Mashburn; a special cousin, Joe Skelton and his wife, Kathy, of Lincoln; and many nieces, nephews, cousins and other relatives.

He was preceded in death by his father, Burt Skelton, and one brother, Bob Skelton.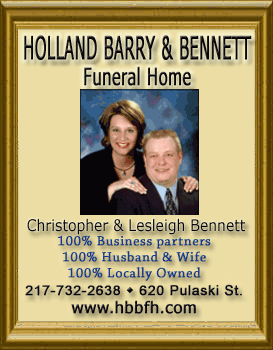 He was a member of Jefferson Post 9 of the American Legion in Indiana and Middletown American Legion Post 672.
He was inducted into the Army on Aug. 13, 1969, in Lincoln. He rose to the rank of specialist four and served in the 93rd Evacuation Hospital, 5th U.S. Army. He was honorably discharged on Aug. 12, 1975, from Fort Leonard Wood, Mo., receiving the National Defense Service Medal and the Good Conduct Medal.
He enjoyed working on his log home, fishing and being with his grandchildren.
Memorial contributions may be made to the donor's choice.
Click here to send a note of condolence to the Skelton family.