Send a link to a friend
November 2011
---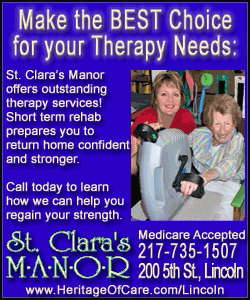 Friday, Nov. 18
Italian dinner
SPONSOR: Lincoln Kiwanis
WHO: Public
DETAILS: (See publicity.)
WHERE: American Legion, 1740 Fifth St.
WHEN: 4-7 pm
Ye Olde Madrigal Dinner
SPONSOR: Lincoln Community High School Music Department
WHO: Public, with tickets
DETAILS: (See publicity.)
WHERE: Maple Club, 1458 Route 121
WHEN: Doors open at 6 pm; meal begins at 6:30
Saturday, Nov. 19
Marble run for Charm Karrick
DETAILS: Cars, trucks, RVs, bikes, Jeeps and scooters are welcome. Join the fun and support Charm. Free jukebox and taco bar at Bill's Bar when participants return. For the 50-50 drawing, winner need not be present.
(See publicity.)
WHERE: Starts and ends at Bill's Bar, Lawndale
WHEN: 9 am check-in; return around 5 pm
Senior Feast
SPONSOR: Lincoln Jaycees
WHO: Seniors age 60 and up, by reservation
DETAILS: Call Kristy Ramlow at 217-871-7760 for reservations and delivery options.
(See article.)
WHERE: Masonic Center, 2022 N. Kickapoo St.
WHEN: 11 am-1 pm
Soup kitchen: 3rd Saturday community meal
SPONSOR: Logan County Love (Find us on Facebook.)
WHO: Open to the public. Everyone is invited.
DETAILS: Menu: chili, grilled cheese, salad, cookies and drink. Free. Donations are accepted but not required. Help ministry information will be available.
WHERE: Church of Christ, Seventh and Maple
WHEN: 5-7 pm
Trivia night fundraiser
SPONSOR: Montessori Children's House of Lincoln
WHO: Public
DETAILS: Trivia Night scholarship fundraiser for Montessori Children's House of Lincoln, for children ages 3-9. Teams of eight. Call for details: 217-341-9275.
(See publicity.)
WHERE: Rusty's Clubhouse, 2810 Woodlawn Road
WHEN: 6:30 pm-?
Sunday, Nov. 20
Ye Olde Madrigal Dinner
SPONSOR: Lincoln Community High School Music Department
WHO: Public, with tickets
DETAILS: Sunday tickets include dessert only and performance.
(See publicity.)
WHERE: Maple Club, 1458 Route 121
WHEN: Doors open at 2 pm; dessert begins at 2:30
Seminar: Couponing 101
WHO: Public, by reservation
DETAILS: Call 732-8687 or email admin@abe66.com for information and reservations. A portion of the proceeds will go to restoration of The Mill.
(See article.)
WHERE: Chad's Blind, 1230 Fifth St.
WHEN: 2 pm
Monday, Nov. 21
Logan County Genealogical & Historical Society meeting
SPONSOR: Logan County Genealogical & Historical Society
WHO: Everyone welcome
DETAILS: "Getting Acquainted with Resources for Genealogy Research," presented by Gary Freese
WHERE: 114 N. Chicago St.
WHEN: 6:30 pm
Tuesday, Nov. 22
Book signing with Linda Rivers Smith
SPONSOR: Lincoln Public Library District
WHO: Public
DETAILS: Linda Rivers Smith has two new releases: "The Apple Tree -- A Dick and Dave Adventure" and "Whatever Happened to the Old Woman in the Shoe?" There will be a book reading immediately following the book signing. Parents are encouraged to bring a camera to take a picture of their child with the author. (Click here for more information on the author and her new books.)
WHERE: Lincoln Public Library, 725 Pekin St.
WHEN: 2-5 pm
Friday, Nov. 25
Chili or turkey vegetable soup meal
SPONSOR: Oasis
WHO: Public is invited
DETAILS: Meal includes hot dog, dessert and drink. Carryouts available through the alley door. Bake sale and holiday crafts go on sale at 10 am. Santa will be available between 6 and 6:30 pm, after the annual Christmas parade, to take all gift requests.
WHERE: 501 Pulaski St.
WHEN: 3-7 pm
Christmas parade
SPONSORS: Main Street Lincoln and city of Lincoln
WHO: Public
DETAILS: Theme: "The Songs of Christmas"
(Entry form) (Announcer card)
WHERE: Lincoln
WHEN: 5:30 pm
Saturday, Nov. 26
Pride of the Prairie Folk Art and Craft Show
SPONSOR: Lincoln Park District
WHO: Public
DETAILS: http://www.lincolnparkdistrict.com/Special-Events/Pride-Of-The-Prairie
(See publicity.)
WHERE: 1400 Primm Road
WHEN: 8 am-3 pm
Benefit for Jimmy Jordan
SPONSOR: Local businesses and Individuals who have donated
WHO: Local community
DETAILS: Spaghetti dinner, silent auction and 50-50 raffle with live entertainment and a cash bar in order to raise money to pay for funeral expenses.
WHERE: Eagles Lodge, 1621 N. Kickapoo
WHEN: 4 pm-?
Christmas parade in Mason City
SPONSORS: Harnacke Buildings and Whitsel's Accounting
WHO: Public
DETAILS: Organizers are looking for participants to join in the parade.
WHERE: Mason City
WHEN: Line up at 5:30 pm for parade at 6 pm
November | December