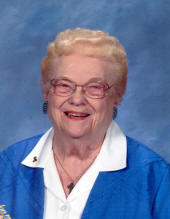 Elvira Fleming

Send a link to a friend
[November 28, 2011] LINCOLN -- Elvira Louise Fleming, 95, a Lincoln native, died Saturday, Nov. 26, 2011, at The Christian Village.
Her funeral service will be at 11 a.m. Friday, Dec. 2, at Zion Lutheran Church, with the Rev. David Ramirez and the Rev. Mark Thompson officiating. Visitation will be one hour before the service.
Fricke-Calvert-Schrader Funeral Home in Lincoln is handling arrangements.

Mrs. Fleming had an extensive career as an executive secretary at Lincoln College and Chicago-area businesses.

She was born on July 11, 1916, in Lincoln to Hugo and Mary Schulze Hoepfner.

She is survived by two nieces, Judith Markovitz of Connecticut and Joan Mudd of Arizona, and a nephew, Karl Hoepfner of Texas.

She was preceded in death by her parents; her sisters, Erna Jensen, Melba Hoepfner and Maria Hoepfner; her brothers, Herbert and Hugo Hoepfner, her children, David Carl Fleming and Martha Marie Fleming; and a granddaughter. Elvira was the last of her immediate family.

She graduated from Lincoln High School, Lincoln Business College and Lincoln College.

After graduating from Lincoln College in 1936, she taught at Lone Tree School in rural Hartsburg and Atlanta Elementary School.

In the early 1940s she was secretary to the Lincoln College president, William D. Copeland, and the director of public relations, Loren Hatcher. She was appointed director of public relations and alumni secretary of Lincoln College in 1942.

Leaving Lincoln College, she served as executive secretary to the vice president of public relations at Lake Forest College in Lake Forest and advanced to director of the alumni association.

She joined Harlee Mfg. Co. in 1951 as an executive secretary, coordinator of the Tastee-Freez franchise program, office manager and coordinator of sales for Standard Business Machines, a small subsidiary.

Eighteen years later, she joined Bell & Howell Co. and held the position of executive secretary to its newly appointed president.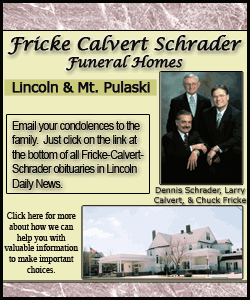 Leaving Bell & Howell temporarily, she spent a year as legal secretary with a law firm in Chicago's Loop, then returned to Bell & Howell as executive secretary to the president of the International Group. Following his retirement, she assisted several executives in the International Group. She was administrative assistant to the vice president of International when she retired in 1989, after 19 years with the company, at the age of 72.
She returned to Lincoln in June 1989 with her son, David Carl Fleming, who died that same year. She then cared for her daughter, Martha Marie Fleming, who died in 1999, and her sister, Maria Hoepfner, who died in January 2000.
She was a member of Zion Lutheran Church, Lincoln College University Hall Society, Abraham Lincoln Memorial Hospital Auxiliary, Oasis, Logan County Genealogical & Historical Society, Lincoln College Alumni Association, Bell & Howell Pioneer Club, and the Zion Golden Heirs.
She received the Lincoln College Alumni Association Award for Outstanding Achievement in the Field of Business and Public Relations in 1970.
Memorials may be made to Zion Lutheran Church in Lincoln.
Click here to send a note of condolence to the family of Elvira Fleming.